Cherry Tomato & Pesto Spaghetti Recipe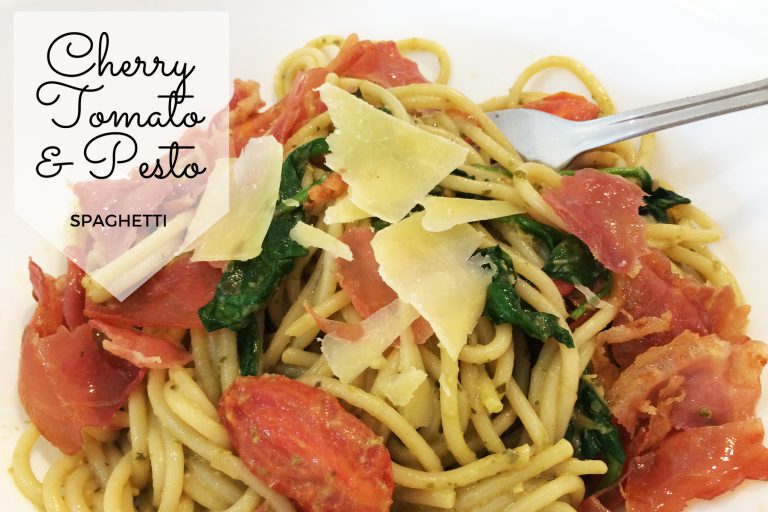 Cherry Tomato & Pesto Spaghetti Recipe
This easy cherry tomato and pesto spaghetti recipe is perfect for those hectic summer evenings when you need to throw something together quickly. You can have this fresh and tasty meal on the table inside fifteen minutes!
Here's what you'll need to make it.
Baby spinach, prosciutto, dried spaghetti, a jar of basil pesto, some cherry tomatoes, olive oil and shaved parmesan cheese to serve.
Start off by cooking your spaghetti in boiling salted water. Then cook the prosciutto and set aside. Pop the halved cherry tomatoes into the pan and warm through, then add the spinach and allow to wilt. Then it's just a matter of combining everything together!
Toss the spaghetti through the tomatoes and spinach with some pasta water and the pesto. Break the prosciutto into shards and add those too. Then divide the pasta among bowls, sprinkle with some freshly cracked black pepper and top with some shaved parmesan.
Fresh, tasty, quick and simple. It really couldn't be easier! Enjoy!
Cherry Tomato & Pesto Spaghetti Recipe
Ingredients
375g dried spaghetti
2 tbs olive oil
6 slices of prosciutto
250g punnet of cherry tomatoes, halved
120g baby spinach
150g basil pesto
shaved parmesan to serve
Instructions
Cook the pasta in a large saucepan of salted boiling water following packet directions or until al dente. Drain, reserving 3/4 cup (185ml) of cooking liquid.
Meanwhile, heat the oil in a large frying pan over high heat. Cook the prosciutto turning, for two minutes or until crisp. Transfer to a plate.
Add tomato to the pan and cook, stirring for 3 minutes or until tomato begins to soften and split. Add the spinach and cook for 1 minute or until spinach just wilts. Add the spaghetti, reserved cooking liquid and pesto. Toss to combine.
Break the prosciutto into large shards. Add to the pasta and toss to combine. Divide among serving plates and top with shaved parmesan.
https://mumslounge.com.au/lifestyle/food/cherry-tomato-pesto-spaghetti-recipe/