Chewy Chocolate Peanut Butter Chip Cookies recipe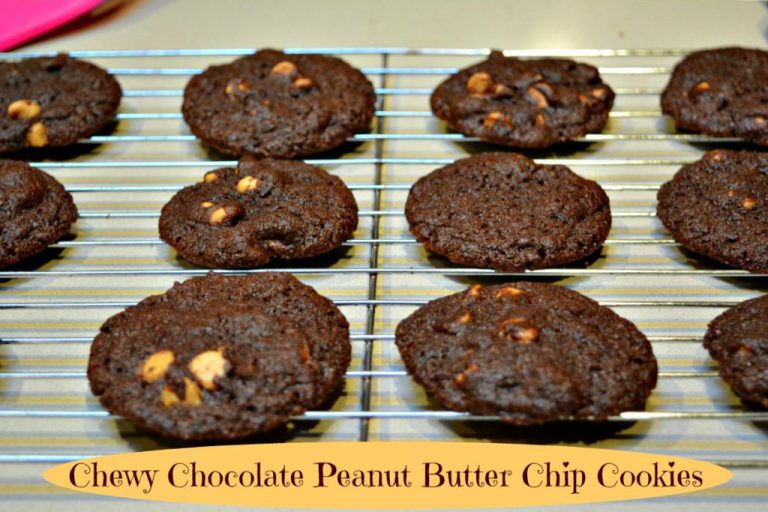 Chewy Chocolate Peanut Butter Chip Cookies Recipe
Sorry about my peanut butter obsession but I'm positive I am not alone out there. At last count I have 7 jars of peanut butter all on the go in my pantry (mostly because I've HAD to buy some when we are away and then bring home the left overs). And peanut butter and chocolate together? To. Die. For.
So I was pretty excited when I was wandering down the aisle in Woolworths and stopped dead in my tracks as I stared at the packets of Reese's Peanut Butter Chips now… available… in Australia… Joy!
These are incredibly delicious and my favorite cookie ever. They were so good I sampled them straight out of the oven. Then I needed to know how they tasted 'warm', then I needed to know how they tasted at room temperature, then I needed to know how they tasted the next morning (yeah, they were breakfast), then I demanded my husband take them to work before I turned into one.
Chewy Chocolate Peanut Butter Chip Cookies recipe
Ingredients
2 cups flour
3/4 cup unsweetened cocoa powder
1 tsp baking soda
1/2 tsp salt
1 1/4 cups butter, softened
2 cups sugar
2 eggs
2 tsp vanilla
1 2/3 cup Reese's peanut butter chips
Instructions
Pre-heat oven to 180C/160C fan-forced/350F. Line two large baking trays with non-stick baking paper.
In a large bowl beat butter and sugar together until light and fluffy, add vanilla and eggs and beat to combine. In a separate bowl combine flour, cocoa, baking soda and salt, then beat into the butter mixture until just combined. Add the peanut butter chips and mix through with a spoon.
Drop teaspoonfuls onto the trays about 2 inches apart and bake for 12 minutes, swapping trays halfway through. They are quite soft and sticky when they come out of the oven and need to cool on the tray for 6 minutes before transferring to a wire rack to finish cooling.
https://mumslounge.com.au/lifestyle/food/chewy-chocolate-peanut-butter-chip-cookies/