Chicken Parmigiana Burgers Recipe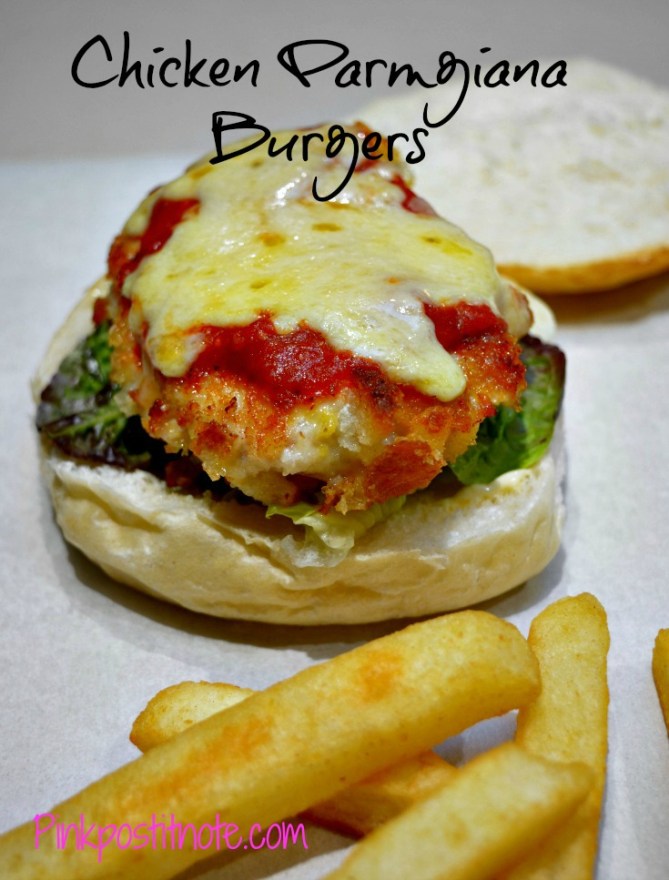 Chicken Parmigiana Burgers Recipe
My husband is stark raving Chicken Parma mad. He absolutely LOVES them and it's pretty much guaranteed that no matter what is on the menu at the pub, that's what he'll order. And then he complains that the chicken is too thick, or the sauce is too runny or the cheese is burnt. I'm kind of the same with caesar salad. Even though I can make it perfectly at home, it's always what I order when I go out and I'm always disappointed by non-crispy bacon, wilted lettuce and a terrible dressing. Oh, and the croutons are never very good either. If by some miracle, either of us get a good salad or a good parma we leave with a smile and full bellies.
It is for this reason that I made him these cute Chicken Parmigiana Burgers. Just one chicken breast makes four burgers (which doesn't sound like a lot I know but by the time you put sauce and cheese on top, pop it in a roll and add chips it's a pretty filling meal). It's cheap, it's fast, it's easy and it's delicious. I guarantee your family will devour these and they are actually almost nearly healthy too. Lean, skinless chicken breast, tomato puree, lettuce. You've got your carbs, protein and vegetables all in one meal! Winning.

Chicken Parmigiana Burgers Recipe
Ingredients
1 large skinless chicken breast
Flour to dust
1 egg
2 cups panko breadcrumbs
salt & pepper
vegetable oil
4 hamburger rolls, halved and lightly toasted
small jar of bolognaise (spaghetti) sauce
1 cup of shredded cheddar cheese
Kewpie mayonnaise
Cos lettuce
Hot chips to serve (optional)
Instructions
Pre-heat oven to grill setting.
Pound the chicken breast to about 1/4" thick in a plastic ziplock bag with a meat mallet. Cut into four even size pieces.
Dust the chicken with flour seasoned with salt and pepper.
Put the egg in one bowl and whisk.
Place the breadcrumbs in a 2nd bowl.
Dip the chicken pieces into the egg and then the breadcrumbs (this can be done in advance and they can be stored in the fridge if you like). Otherwise, drizzle the vegetable oil in the bottom of a sturdy frypan and gently fry the chicken until golden on each side.
Transfer the chicken pieces to an oven tray lined with non-stick baking paper and spoon a few tablespoons of sauce over each piece, top with the cheese and grill until melted and bubbly.
Spread one half of the rolls with kewpie mayonnaise and top with lettuce, then top with the grilled chicken.
https://mumslounge.com.au/lifestyle/food/chicken-parmigiana-burgers/