Chicken Pasta Recipe – Chicken and Broccoli Pasta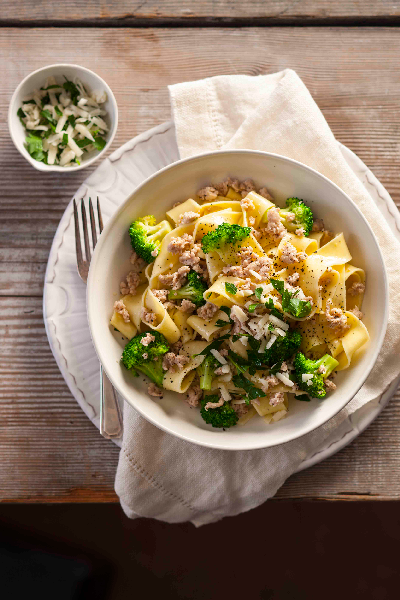 Chicken Pasta Recipe:  Chicken and Broccoli Pasta
Serves 4
Preparation time: 10 mins
Total cooking time: 22 mins
Chicken Pasta Recipe – Chicken and Broccoli Pasta
Ingredients
• 350g Steggles LEAN chicken mince
• 350g pasta
• 1Tblsp olive oil
• 2 cloves garlic, crushed
• 300g broccoli, cut into small florets
• ¼ cup coarsely grated Parmesan cheese
• 2 Tblsp roughly chopped parsley
Instructions
Cook pasta according to directions on pack. Drain, reserving ½ cup cooking liquid.
Cook mince in a lightly greased deep frying pan, breaking up lumps with a wooden spoon. Remove from pan.
Heat 1 teaspoon of oil in the frying pan over medium heat, add garlic cook until golden, stirring so garlic does not burn. Add broccoli and reserved cooking liquid and cook stirring until broccoli is tender, about 3 minutes. Season with salt and pepper.
Add chicken mince, stir until heated through. Add the pasta to the pan and toss to mix well.
Combine Parmesan and parsley. Transfer pasta to serving bowls, drizzle each serve with remaining olive oil and sprinkle with Parmesan and parsley and fresh cracked black pepper.
https://mumslounge.com.au/lifestyle/food/chicken-pasta-recipe-chicken-broccoli-pasta/
For more recipe ideas, go to www.steggles.com.au