Creative and Fun Sandwich Ideas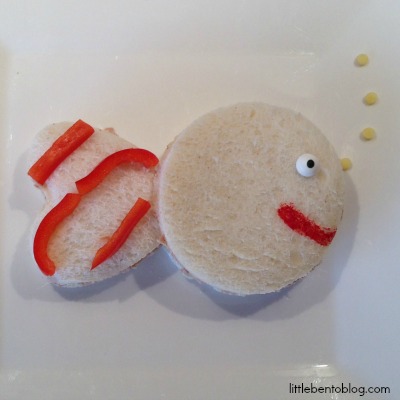 It's back to school time and the thought of making the same sandwich day after day is on every parent's mind.
But with a little imagination and a sandwich cutter or two in hand, you will be able to get through the year with some fun sandwiches! Creating a little joy in your child's lunch box will help encourage them to eat it all every day!
First you need to decide what you are putting in those sandwiches – we have come up with some combinations for the lunch box.
Sandwich Toppings:
Ham and Tomato
Coronation Chicken
Curried Egg and Lettuce
Leftover Roast and Branston Pickle
Tuna Mayonnaise
Ham, Cheese, Lettuce
Grated Carrot and Cheese with Salad Cream
Hommus and Tuna
Cream Cheese and Ham
Vegemite and Cheese
Avocado and cream cheese
Bacon, Lettuce and Tomato
Once you have your filling – you can create fun sandwiches by using what filling you have to what shape sandwich you want!
A Tuna Fish Sandwich – using a heart and circle cutter.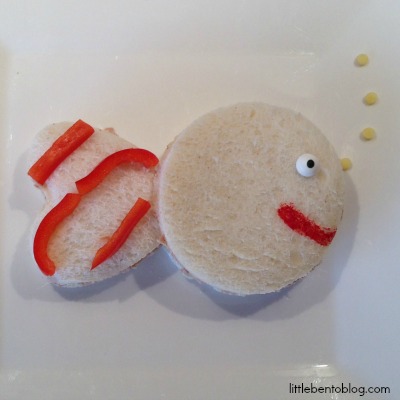 A Submarine searching for sea life – just slice the bread in half.
Or a Fly Sandwich
How to make a Fly Sandwich:
Spread a piece of bread with Cream Cheese.
Place two pieces of ham on top of the Cream Cheese.
Cut around the edge so it is in an oval shape.
Cut a slice of cheese in half to create two rectangles then round of one edge and slice a edge off the other end.
Cut a long thin strip of Nori paper and slice into 5 equal lengths.
Cut two circles out of Nori paper.
Cut a cherry tomato in half and place on the ham for eyes
Place Cheese slices in a wing-like pattern
Place the Nori paper as 4 legs and 1 nose.
Place the two Nori circles on top of the cherry tomatoes
Now there are you can pick up some great cutters that cut the sandwich right to the edge of the crust to make great fun sandwiches.
Dinosaur Cheese Toasties are very yummy!
 Ladybug and Flower Sandwiches are great for those garden lovers out there!
Pinwheel sandwiches are fun and great when you want to make an after school snack.
Please remember to check with your school if it is "nut free" or if any other food items are not allowed to be sent in the lunch box.
Not sure what to do with the leftover crusts? Put them into a freezer bag and use for breadcrumbs.
Make Cinnamon Sugar Bread
Line them on a baking tray and drizzle melted butter  and cinnamon sugar over the top and pop them in the oven at 160 for 10 minutes (or golden brown) and have them as a Friday Movie Night treat! They taste great dipped in chocolate!
Written by Yvette Bowyer– Owner of Little Bento Shop– Yvette has been creating Bento style lunches for her daughter for three years, after struggling with a fussy eater, she turned to making Bento lunches. It is quick and easy to create a lunch box filled with little nibbles and this is one way to encourage children to eat healthy and try new foods.
Yvette opened Little Bento Shop in February 2013 where she sells lunchboxes, sandwich cutters, reusable food pouches and bento accessories like food cups and food picks.
Read the complete Mums Lounge Back to School Guide 2015 here