33 same sex couples marry at Grammys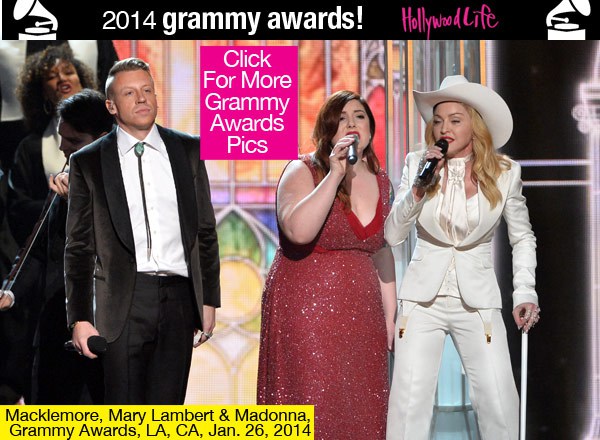 33 same sex couples marry at Grammys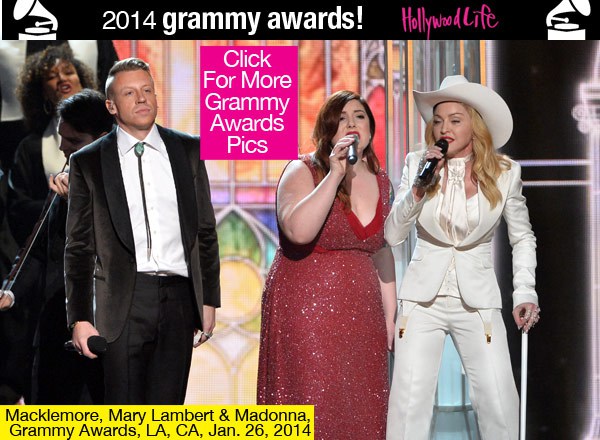 Image source: HollywoodLife.com
As well as cleaning up at the Grammy's this year, singer Macklemore was also being commended for using his performance of his hit song 'One Love' as 33 same sex couples marry at the grammys in front of the live audience.
Madonna also joined in on the track following with a rendition of her past hit 'Open your Heart'.
The weddings were officiated by Queen Latifah.
Hollywood Life reports.. Queen Latifah came back onstage after introducing the performance to officiate 34 marriages — mostly for same-sex couples! It was incredibly emotional. Thirty-four smiling couples exchanged rings in front of the Staples Center audience — and the world — as Queen Latifah pronounced them married! The surprises kept coming — just when we thought that Madonna would not show up after all, she appeared from backstage in an all-white outfit singing her 1986 hit single, "Open Your Heart." Mary joined her, and then the two ended the performance with a mash-up of the "Same Love" chorus and "Open Your Heart." The end of the performance was received with a thundering, standing ovation.
The offical statement from the Associated Press regarding the event:
The weddings of 33 couples during the Grammy Awards were legally presided over by Queen Latifah. The rapper-actress-talk show host had to be sworn in as a commissioner by the state of California to perform the ceremony.
"You can call me Queen Commish for a little longer," she joked backstage Sunday night.
Latifah said she's not an ordained minister and her special powers expired at midnight.
"It was something I took very seriously," she said. "That is someone's life commitment to one another, you want to make sure you do it right. That's what sunk in for me."
The marriages took place in the aisle of the Staples Center during Macklemore & Ryan Lewis' performance of the gay rights anthem "Same Love."
"To have your wedding in front of 100 million people is pretty momentous," Latifah said. "I can say I was here and that will not leave me. I look forward to dashing off and signing all their wedding certificates." Read more at Huffington Post here