Chicken Schnitzels with Bacon & White Wine Cream Sauce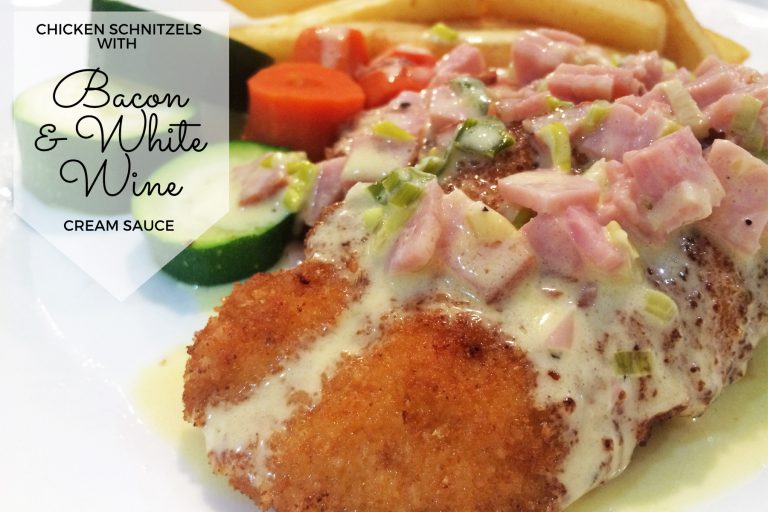 Chicken Schnitzels with Bacon & White Wine Cream Sauce
Take your chicken schnitzels to the next level with this surprisingly simple bacon and white wine cream sauce. Just five ingredients make up this restaurant quality topper, and you'll be wanting to make it again and again once you realise how amazing it tastes!
I'll leave you in charge of your chicken schnitzels – fresh, frozen, homemade, it's totally up to you. I made mine from scratch as it is cheaper and easier than making a special trip to the shops just for schnitzels.
I halved the chicken breast fillets horizontally, dredged them in plain flour, then an egg/milk bath, then a mixture of corn flake crumbs, bread crumbs (just from a packet), and about a teaspoon each of garlic powder and onion powder.  Pan fry them in about 1cm of canola oil and drain on some kitchen paper.
Now for the star of the dish – the sauce!
Here are the ingredients you will need.
Super simple – some butter, bacon and shallots, white wine (I thought it best not to include the entire cask in the image!) and a small tub of cream.
Chop the bacon and shallots and fry them in the butter.
Add the wine and bring to a steady simmer for a few minutes, then add the cream. Season with a little salt and pepper and turn the heat down a bit. Let it simmer gently for a few more minutes until it reduces slightly. Done!
Serve your chicken schnitzels with some oven fries and steamed vegetables, then pour your amazing sauce all over the top. Enjoy!
Chicken Schnitzels with Bacon & White Wine Cream Sauce
Ingredients
4 chicken schnitzels, either home-made or store bought
Enough Canola oil to cover the bottom of a large frying pan
250mls cream
1 shallot, finely chopped
4 rashers short cut bacon, chopped
50g butter
½ cup white wine
Salt and pepper to taste
Oven fries and steamed veggies to serve
Instructions
Pan fry the schnitzels over a medium heat until cooked through and golden on both sides.
Meanwhile, melt the butter in a frying pan or large saucepan on medium high heat and add the bacon and shallots. Cook for a few minutes, stirring every now and then.
Add the wine to the bacon and shallots and stir to combine. Bring to the boil and allow to simmer for 3 minutes.
Add the cream, salt and pepper and stir to combine. Turn the heat down a little and simmer until reduced slightly.
Pour all over chicken schnitzels and serve with oven fries and steamed veggies.
https://mumslounge.com.au/lifestyle/food/chicken-schnitzels-with-bacon-white-wine-cream-sauce/