Chocolate Caramel Pecan Slice Recipe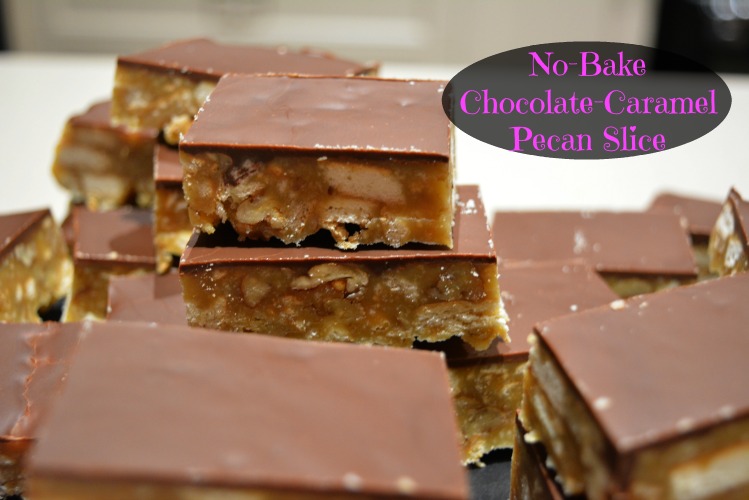 Chocolate Caramel Pecan Slice Recipe
Here is another easy slice with no baking required. Why is it that we love no bake slices so much? Theoretically it's not that hard to turn on the oven and put something inside. Is it because we don't want to wait for it to cool down? I'm not sure what it is but I am exactly the same when I see anything that says no-bake, I need to take a close look and then usually I am all OVER it. Especially if it tastes as delicious as these do.
This is incredibly easy – just crushed biscuits, chopped pecans, some milk, butter, golden syrup and brown sugar heated together and mixed through the biscuit mixture with a layer of melted chocolate on top.
It's crunchy, it's caramel, it's chocolate – kind of like a Twix bar.
I don't normally flip my slices over to get the smooth side to pour the chocolate on but I did for this one because the mixture with all the crumbled biscuits is a little bit uneven and I was looking for a smooth top (of course if you look closely at the bottom then that bit is uneven, shh). You don't have to do this because unless you are taking photos of your slices for umm, a blog like me – then it doesn't matter!
Chocolate Caramel Pecan Slice Recipe
Ingredients
200g sweetened condensed milk
1/2 cup brown sugar
125g butter
2 tbsp. golden syrup
250g arrowroot biscuits, roughly chopped
1 cup chopped pecans
100g dark chocolate, melted
1 tbsp. vegetable oil, coconut oil, or copha
Instructions
Line an 18 x 28cm slice tray with non-stick baking paper.
Combine the condensed milk, brown sugar, butter and golden syrup in a medium saucepan over medium heat and bring to the boil, whisking constantly. Simmer and continue to whisk for approximately ten minutes or until thickened and mixture starts to come away from the sides of the pan.
Add the chopped biscuits and pecans and spread over the tray. Place in fridge for an hour to set.
Then melt the chocolate with the oil in the microwave or in a heat proof bowl over a pan of simmering water (do not let the bottom of the bowl touch the water). Spread over the set slice and return to fridge for 20 minutes to set.
Cut into squares.
https://mumslounge.com.au/lifestyle/food/chocolate-caramel-pecan-slice/