Chocolate Dipped Bananas Recipe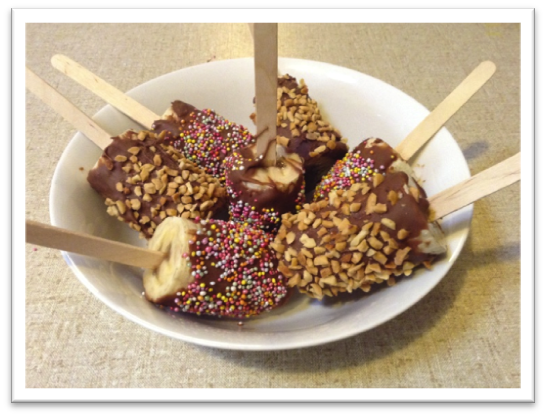 Chocolate Dipped Bananas
Photo credit: Jen Stokes
Here is a great treat for the kids (and for you). These chocolate dipped bananas are delicious and easy to make too!
What you need:
• 2-3 bananas (big and straight if possible), cut into thirds
• A block of melting chocolate (milk is the best)
• Paddle pop sticks
• Crushed nuts – or in case of allergies, you can use sprinkles or coconut.
What you do:
Place chocolate in a heat proof bowl over a pan of water. Heat the water on low until the chocolate is melted. Be careful not to let it burn or the water to run out.
Insert a paddle pop stick into the centre of each banana. Cover a plate or tray with baking paper and make sure the bananas can stand.
Gently dip each banana into the chocolate and using a spoon, make sure the banana is covered.
Carefully, dip the banana in the topping.
Once covered, stand the banana up on the tray. Place the tray into the fridge for 20 minutes or up to 3 days…if they last that long!
*After attempting these twice, here are a few helpful tips:
Don't use skewers – the banana just rolls around and you will lose the banana in the chocolate and/or the toppings.
If you live in warmer climates or if the bananas are ripe, freezing the banana, in the skin, for about an hour prior to using them will help hold it on the paddle pop stick.
I found that after I dipped the banana in the chocolate and then in the toppings and stood them up straight away, the coverings all went south. To stop this, after dipping in chocolate, slowly turn the banana for a minute or so to start to harden the chocolate, and then dip in the toppings. This will stop all the topping sliding off. You could also place them in the fridge immediately after dipping.
This guy loved them…
Photo Credit: Jen Stokes
By Jen Stokes – Another mummy-blogger @ justicemum
Being a stay at home mum to 2 beautiful, wonderful and extremely energetic boys, Marshal, 3 and Maverick, 1 it always gives me some great stories to write about. Becoming a mum was the best thing I have ever done and I love that through writing I can express my feelings and experiences (good and bad) to other mums.
You can enjoy my blog at http://justicemum.wordpress.com