Chocolate Mousse Recipe – Chocolate Mint Mousse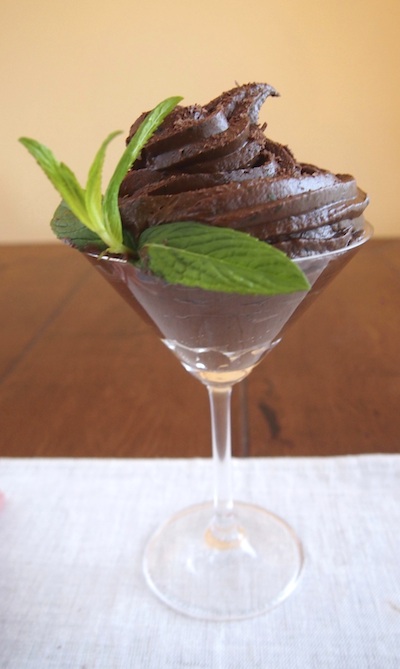 Chocolate Mousse Recipe
Raw Choc Mint Mousse
Love chocolate mousse?  We do, so here is a chocolate mousse recipe that is quick and easy to do,  and will delight.  Enjoy
Prep time
10 mins
Total time
10 mins
From the kitchen of: Rebecca Weller – Vegan Sparkles
Chocolate Mousse Recipe – Chocolate Mint Mousse
Ingredients
1 large ripe avocado
1 large ripe banana
5 Medjool dates (pitted and pre-soaked in warm water for 10 minutes)
4 tbsp raw cacao powder
⅓ cup fresh mint leaves, tightly packed (plus a few more leaves for garnish)
1 tsp pure vanilla extract
Pinch sea salt
Instructions
. Combine all ingredients in blender or food processor.
. Blend on low speed first, building up to high speed, continuing until whipped and creamy.
. Pop food processor/blender vessel into the fridge until ready to serve.
. Use a piping bag or spoon into glasses, sprinkle with chopped raw chocolate or cacao nibs, garnish with extra mint leaves, and enjoy!
https://mumslounge.com.au/lifestyle/food/chocolate-mousse-recipe-chocolate-mint-mousse/
BIO: Rebecca Weller is a Holistic Health Coach passionate about helping women transition to happier, healthier lives, re-ignite their sparkle, and fall in love with life again. Rebecca provides one-on-one health coaching, hosts regular wellness events, is the author of eBooks: 'Eating for Energy <http://vegansparkles.com/eating-for-energy/> ' and 'Dessert SuperSmoothies <http://vegansparkles.com/dessert-supersmoothies-ebook/> ', and creator of The Sparkle Project <http://vegansparkles.com/the-sparkle-project/> . Get your sparkle back at VeganSparkle.com [http://vegansparkles.com/> ]
[http://www.facebook.com/VeganSparklesRebeccaWeller]