Vegan Nutella Spread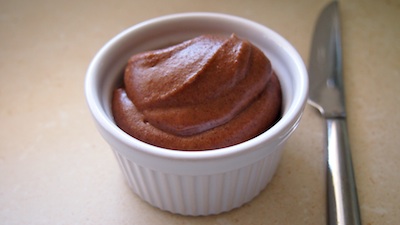 Vegan, Choc Hazelnut Nutella Spread
Prep time
20 mins
Cook time
10 mins
Total time
30 mins
From the kitchen of: Rebecca Weller Vegan Sparkles
Ingredients
200g raw hazelnuts
1tbsp pure vanilla extract
cup raw cacao nibs
cup agave nectar
Pinch sea salt
2 - 3 tsp coconut oil (optional for extra smoothness)
cup non-dairy milk (soy / almond, etc)
Instructions
Roast hazelnuts in a baking tray at 180C for about 10 minutes until toasted and aromatic and the skins turn a couple of shades darker.
Remove from oven and while the hazelnuts are still warm, rub between a towel or paper towel or your fingers to remove the skins. Aim to remove at least 70% of the skins (which can be quite bitter). If there are some stubborn ones, you can pop them back in the oven for a few more minutes and try again.
Let the hazelnuts cool completely preferably overnight or they will not blend as finely as they should (and will be hard work in your blender).
The next day, in a high-speed blender or food processor, blend hazelnuts until fine/buttery, then add all remaining ingredients and blend until smooth and creamy.
Try not to eat it all straight from the blender!
https://mumslounge.com.au/lifestyle/food/vegan-nutella-spread/
Rebecca Weller is a Holistic Health Coach passionate about helping women transition to happier, healthier lives, re-ignite their sparkle, and fall in love with life again. Rebecca provides one-on-one health coaching, hosts regular wellness events, is the author of eBooks: 'Eating for Energy ' and 'Dessert SuperSmoothies ', and creator of The Sparkle Project . Get your sparkle back at VeganSparkle.com 
http://www.facebook.com/VeganSparklesRebeccaWeller