Easiest Chocolate Weet-Bix Slice Recipe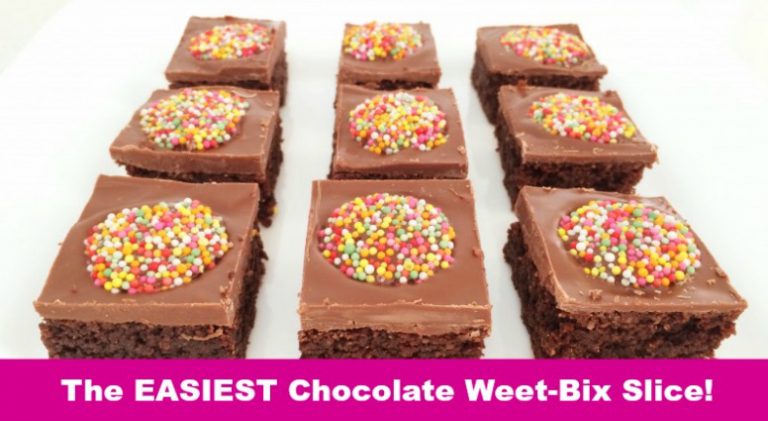 Easiest Chocolate Weet-Bix Slice Recipe
It doesn't get more Australian than Weet-Bix, does it!? Well, perhaps Vegemite, Tim Tams and ANZAC's are just as Australia… but Weet-Bix is right up there when it comes to iconic Aussie foods. And so it just makes sense to put this much-loved Aussie food into a delicious chocolate slice!
There are three great things about this Chocolate Weet-Bix Slice:
1. If you live in Australia, you're pretty much guaranteed to already have a box of Weet-Bix sitting in your cupboard (particularly if you have little kids!!).
2. This is SO easy to make. Like really, really ridiculously easy.
3. It tastes amazing. Simple as that.
Whenever I make this Chocolate Weet-Bix Slice, I like to top it with some melted chocolate and a few Freckles (because Freckles are the cutest thing ever!). You can always leave the chocolate topping off if you like… but I highly recommend you don't!
This makes for a very delicious lunchbox treat or after school snack. If you're planning a kids birthday party, then this slice will be a total hit with the kids – plus it looks great.
You can store the slice in an airtight container at room temperature for up to 5 days – but if your house is anything like mine, there is no way it will ever last that long!
So let's get into the super easy recipe…
The Easiest Chocolate Weet-Bix Slice Recipe
Easiest Chocolate Weet-Bix Slice Recipe
Ingredients
12 Weet-Bix, finely crushed
¼ cup cocoa powder, sifted
¾ cup brown sugar
200g butter, melted
½ cup desiccated coconut
1 egg, lightly beaten
Topping:
200g milk chocolate, melted
chocolate Freckles to decorate (optional... but highly recommended!).
Instructions
Preheat oven to 180°C/160°C fan-forced.
Grease a 20cm square slice or cake tin with baking paper.
Crush the Weet-Bix and place into a bowl.
Add the sifted cocoa powder, sugar, butter, coconut and lightly beaten egg to the bowl.
Spoon the mixture into the prepared tin and press down firmly.
Bake in the oven for 15 to 20 minutes or until firm to touch.
Set aside to cool slightly.
Meanwhile, melt the chocolate in the microwave for 3 minutes, 50% power in 30 second bursts, stirring in between each interval.
Pour the melted chocolate over the top of the slice.
Working quickly (before the chocolate melts!) decorate with the chocolate Freckles.
Place the slice into the fridge for at least two hours (cutting it too early will result in a crumbly slice!).
Take out of the fridge and cut into squares.
https://mumslounge.com.au/lifestyle/food/chocolate-weet-bix-slice-recipe/
What are your favourite slices to make at home? Did you grow up eating Weet-Bix too?