Christmas Wreath Chocolate Ripple Cake Recipe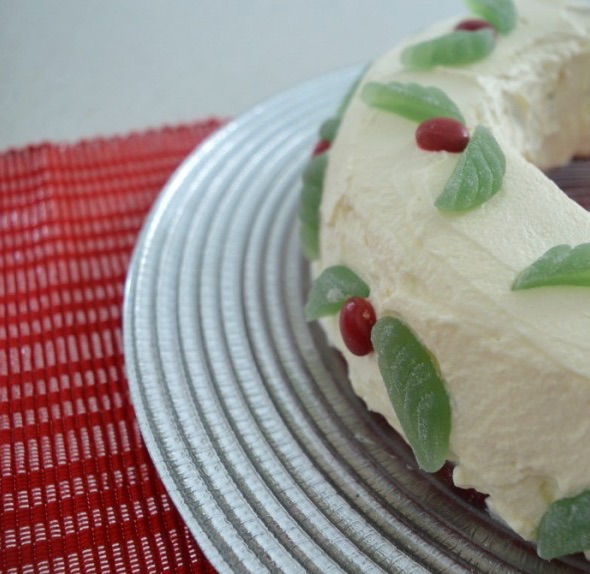 Christmas Wreath Chocolate Ripple Cake Recipe
I don't mean to alarm you, but there is just over two weeks left until Christmas! This is such a busy time of year for many of us, and it's easy to get caught up in the flurry of end of year events and Christmas parties and forget to actually plan our own Christmas Day events! If you haven't already, now is the time to start planning your Christmas Day menu, and this Christmas themed Chocolate Ripple Cake is a perfect, easy and delicious dessert for you and your family. To give this dessert an extra Christmas twist, we've arranged the biscuits into the shape of a Christmas wreath, however you can certainly make one long log cake if you prefer. One of the best things about this dessert is you can make it the night before (while you are waiting for Santa to come!), giving you one less thing to worry about on Christmas Day!
Christmas Wreath Chocolate Ripple Cake Recipe
Ingredients
200g of Chocolate Ripple Biscuits (or similar)
600ml of thickened cream
3 tablespoons of icing sugar
1 teaspoon of vanilla essence
A pack of spearmint leaf lollies
Approximately 20 Red M&Ms or Smarties
A large round serving plate
Instructions
Cut the spearmint leaves in half and sort red M&Ms into a small bowl and set aside until needed.
In a medium bowl, combine the thickened cream with the icing sugar and vanilla essence. Use an electric mixer to beat until soft peaks form.
Place a spoonful of cream on the base of your serving plate and begin to place the biscuits on top.  Add a dollop of cream in between each of the biscuits - I find the easiest way to do this is cover one side of the biscuit with cream before placing on the plate - as shown. Arrange the biscuits so that they form a circle, so they will create your wreath.
Continue until you complete the circle - you should still have approximately half the whipped cream left.
Carefully cover the biscuits with the remaining cream.
Now for the fun part! Create 'holly leaves' along the sides of the cake by placing two of the spearmint leave halves beside a red M&M. Repeat until you have decorated around the whole cake and then decorate the top the same way.
Place the cake in the fridge for a minimum of 6 hours to allow the biscuits to soften.
Remove cake from the fridge and enjoy!
https://mumslounge.com.au/lifestyle/food/christmas-wreath-chocolate-ripple-cake-recipe/
What is your favourite Christmas Dessert?