Classic Aussie Works Burgers Recipe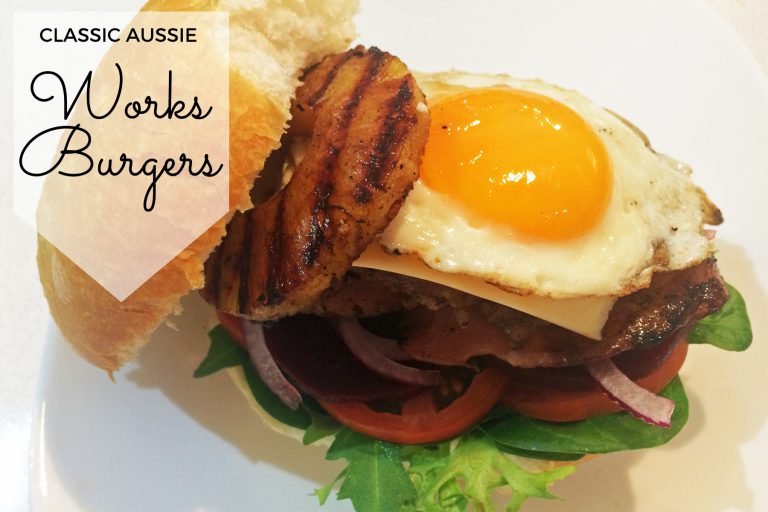 Classic Aussie Works Burgers Recipe
You can't get much more Australian than pineapple and beetroot on a hamburger, so these classic Aussie works burgers fit that bill exactly! Grill the pineapple on the barbecue along with the beef patties for the most delicious caramelised flavour ever!
My favourite works burger toppings are definitely bacon, egg, onion (grilled or red, either way is great) and lots of barbecue sauce. A works burger is not a works burger unless it drips all over your hands while you are eating it!
Classic Aussie Works Burgers Recipe
Ingredients
For the patties:
1kg minced beef
I clove of garlic, minced
1 egg
1 onion, finely diced
1 tablespoon BBQ sauce
1 tablespoon sweet chilli sauce
1 beef Oxo
1 tablespoon Tuscan Seasoning
4 hamburger breadrolls
Lettuce
2 tomatoes, sliced
1 small tin of beetroot
1 small tin of pineapple rings
½ red onion, sliced
4 pieces of sliced cheese
4 eggs
4 rashers of bacon
Instructions
In a large bowl, mix together all of the pattie ingredients until combined and using a ½ cup measuring cup, form the patties and flatten and shape to suit your hamburger buns. Set aside and prepare the breadrolls and salad ingredients.
Cook the patties on the barbecue or on an electric grill or frypan with bacon, eggs and pineapple until cooked through.
Place on top of split buns with lettuce, tomato, beetroot, onion and cheese. Serve with oven fries or wedges.
https://mumslounge.com.au/lifestyle/food/classic-aussie-works-burgers/
Note:
This will make a LOT of patties. Here are some suggestions if you have any leftover pattie mix-
Roll into balls and make spaghetti and meatballs (suitable for freezing)
Form into rissoles and serve with chips and vegetables (suitable for freezing)
Make extra patties for another hamburger meal (suitable for freezing)
Roll into balls, pan fry and serve on hotdog rolls with lots of melted cheese and tomato sauce and have meatball subs.