Creamy Coconut Curry Fish Fillets Recipe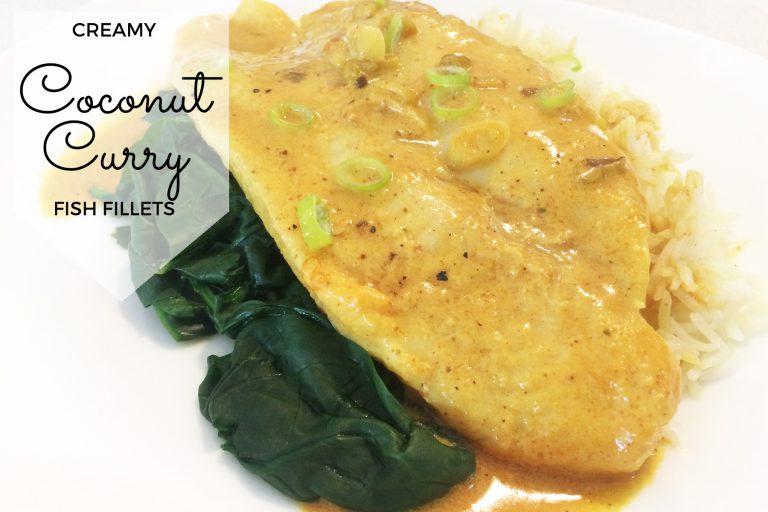 Creamy Coconut Curry Fish Fillets Recipe
Sponsored by Australia's Sustainable Seafood Guide
See their app here.
This would have to be one of the yummiest meals I've made in a long time — perfectly cooked flaky fish fillets in a creamy coconut curry sauce with rice and steamed spinach. Even the kids finished theirs quickly and pinched the leftovers I was hoping to have for lunch the next day!
It's not too spicy for the children, and the curry and coconut broth is beautifully fragrant and creamy. Plus it was super easy to make! Here's how.
You'll need some fish pieces of course! When I was out looking for all the necessary ingredients, I quickly opened up Australia's Sustainable Seafood Guide app and checked what fish options were the most eco-friendly. Recently, my kids were asking me about the bigger impacts of the fish we eat and this free, easy app helped me understand and explain to them why protecting our oceans is vital for their future.
Read more here: Buy Better, Protect Our Oceans: How to Choose Eco-Friendly Fish With This One Click App 
The most sustainable options for this recipe are either Australian farmed Barramundi, Whiting or Flathead – all green-listed as a 'Better Choice' in the Guide. This time around I went for the Whiting, but next time I'm looking forward to trying it with Flathead!
You'll also need some shallots, coconut milk, curry paste (whichever flavour/heat you prefer, I used Tikka Masala), chicken stock, olive oil, and salt and pepper. Plus wilted baby spinach and basmati rice to serve.
Pour a little oil into a frying pan and saute some finely chopped shallots. Then add a couple of spoonfuls of curry paste, the coconut milk, salt and pepper and chicken stock. Allow the mixture to reduce then pop the fish fillets in and cook them for 7 minutes or until cooked through.
That's pretty much all there is to it! Serve your amazing coconut curried fish fillets with some rice and wilted spinach and pour that amazing broth over the top.
I bet you won't have any leftover for lunch the next day either!
Creamy Coconut Curry Fish Fillets
Ingredients
2 teaspoons vegetable oil
2 shallots, finely chopped (about 3/4 cup)
2 1/2 teaspoons curry paste
2 cups chicken broth
270ml coconut milk
salt and pepper to taste
4 fish fillets, skin removed (we recommend Australian farmed Barramundi, Whiting or Flathead)
wilted spinach and basmati rice to serve
Instructions
In a large frying pan, heat the oil over moderate heat. Add the shallots and cook, stirring occasionally, until beginning to brown, 3 to 5 minutes. Add the curry paste and cook, stirring, until fragrant, about 30 seconds. Add the chicken stock, coconut milk, and salt and pepper to taste, and simmer until reduced to 2 cups, about 5 minutes.
Arrange the fish in the pan and gently shake the pan so the fish is coated with the sauce. Cover and cook until the fish flakes easily with a fork, about 7 minutes.
Arrange a pile of steamed spinach on 4 plates next to a pile of rice. Top with the fish fillets. Ladle the sauce over the fish and serve immediately.
https://mumslounge.com.au/lifestyle/food/creamy-coconut-curry-fish-fillets-recipe/