Creamy Ham & Mushroom Pasta Bake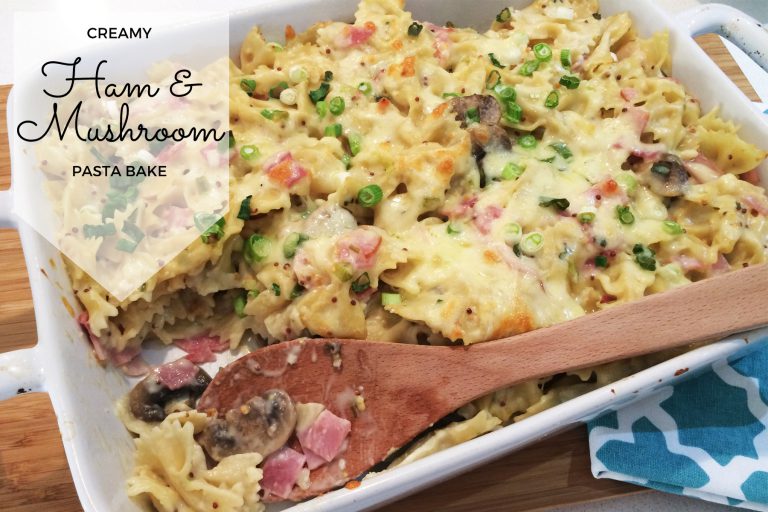 Creamy Ham & Mushroom Pasta Bake
This pasta bake is absolutely perfect for a family mid-week meal. Creamy ham and mushrooms, with gooey cheese and mustard – this is comfort food at it's finest. And it's rather economical, too.
Here are all the ingredients you'll need to add to your shopping list.
Farfalle (or bow tie) pasta, a punnet of mushrooms, some spring onions, cheese, ham, wholegrain mustard, butter, milk and plain flour. You can pack in some extra veggies with some corn kernels, peas or baby spinach if you like too.
Cook the pasta as per the packet directions, then meanwhile, cook the mushrooms in some butter. Then remove the mushies to a bowl and wipe the frying pan with some paper towel. If you don't, the sauce will be a yucky grey colour.
Next, melt the rest of the butter in the frying pan and add most of the spring onions. Do you call them spring onions? Sometimes I do. Other times they are shallots or green onions. All the same thing. Anyway, saute your onions in the butter, then add the flour and stir to cook slightly. Slowly add the milk and stir until it has thickened. Remove from heat and add the mustard, cheese and ham.
Then all you need to do is mix the pasta with the sauce in the casserole dish, sprinkle with the rest of the cheese and onions and bake for ten minutes.
Next time I will use more mushrooms. I might even double the amount, but I love mushrooms. Everyone loved this meal and it will definitely become a regular on our menu. So easy and quick to make. 
Creamy Ham & Mushroom Pasta Bake
Ingredients
500g packet farfalle (bow tie) pasta
60g butter
250g small mushrooms, thickly sliced
4 spring onions, thinly sliced
½ cup plain flour
2 cups milk
2 tablespoons wholegrain mustard
140g thickly cut ham, chopped
1 cup grated tasty cheese
Instructions
Preheat oven to 200C fan forced. Grease an 8 cup capacity casserole dish. Cook the pasta according to packet directions. Heat half the butter in a frying pan and cook the mushrooms until tender, then scoop out and set aside. Use some kitchen paper to wipe out the pan.
Melt the remaining butter in the pan, then add most of the onions and soften for 1 minute. Stir in the flour then gradually add in the milk stirring constantly. Cook and stir for three minutes until the sauce thickens. Turn off the heat, stir in the mustard, ham and most of the cheese, then season to taste.
Tip the pasta and mushrooms into the casserole dish, then pour over the sauce and mix well to combine. Scatter over the remaining cheese and spring onions, and bake for 10 mins until golden.
https://mumslounge.com.au/lifestyle/food/creamy-ham-mushroom-pasta-bake/