Curried Chicken and Rice Soup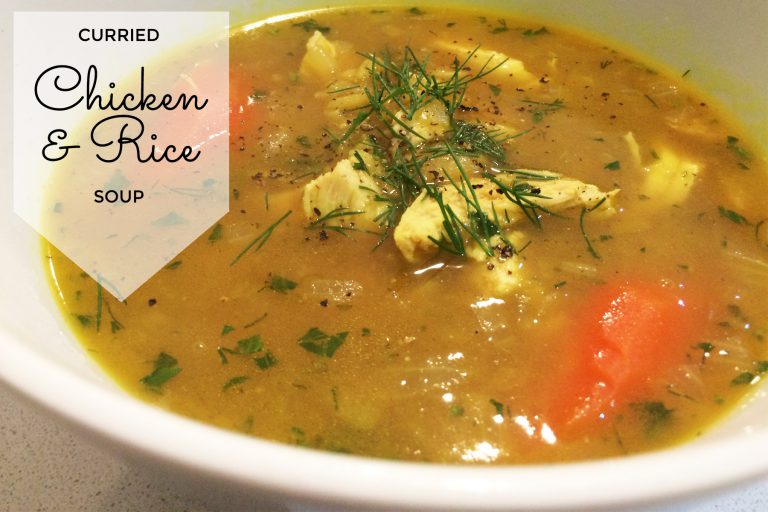 Curried Chicken and Rice Soup
Oh my goodness, this soup is amazing, you guys! Curried Chicken and Rice Soup is perfect for a cold winters night as it just warms you right through. Packed full of flavour and goodness, this soup is a must-maker!
Not since my amazing Warm Honey Mustard Chicken and Bacon Salad have I been so insistent that people try a recipe — you gotta try this soup!
There are a couple of steps involved but it's not difficult to put together. Here are the ingredients that you will need:
Two chicken breast fillets, some carrots, an onion, chicken stock, bay leaves, butter, salt and pepper, rice, curry powder, fresh mint and fresh dill. Nothing too crazy.
You'll also need two saucepans — a big one and a medium sized one. Or two medium sized ones will work nicely too.
Firstly, pop the chicken, carrots, bay leaves and salt and pepper into three cups of chicken stock and simmer until the chicken is cooked, about twenty minutes.
Meanwhile, fry the onions in butter with some sugar and curry paste until softened and fragrant, then add the rest of the chicken stock and the rice and cook for fifteen minutes until the rice is cooked. Your goal here is to time both saucepans to be ready at roughly the same time, give or take five minutes or so.
Now take the chicken out of the saucepan (DO NOT tip out the chicken stock or there goes your soup!) and shred into bite-sized pieces. Return it to the saucepan with the carrots and stock.
Finally, carefully pour one saucepan into the other to create your soup! Scatter your fresh herbs on top and stir through to combine, then serve with more fresh herbs on top.
It's so good, you guys! And no cream makes it pretty much guilt-free!
I hope you enjoy it as much as we did!
Curried Chicken and Rice Soup
Ingredients
2 chicken breast fillets
2 medium carrots, sliced diagonally into 2-inch pieces
2 bay leaves
Salt and pepper
6 cups chicken stock
2 tablespoons butter
1 large onion, thinly chopped
1 teaspoon sugar
1 1/2 teaspoons curry powder
1/3 cup rice
3 tablespoons finely chopped fresh mint
3 tablespoons chopped fresh dill
Instructions
Combine the chicken, carrots, bay leaves and a pinch of salt in a medium saucepan. Add 3 cups chicken stock and bring to a boil. Immediately reduce the heat to low, cover and cook until the chicken is just firm, about 20 minutes.
Meanwhile, heat the butter in another saucepan over medium-low heat. Add the onion, sugar and ¼ teaspoon of salt and cook until the onion is soft, about 5 minutes. Add the curry powder and cook for 1 minute, then add the rice and the remaining 3 cups of chicken stock. Increase the heat to medium, cover and simmer until the rice is cooked, about 15 minutes.
Remove the chicken from its broth and shred the meat into pieces. Return the shredded chicken to the same broth and remove the bay leaves.
Pour the shredded chicken and broth into the curry mixture, stirring gently to combine then bring to a simmer. Toss in the chopped herbs and serve.
https://mumslounge.com.au/lifestyle/food/curried-chicken-rice-soup/