New Product Promises to Get Your Man Off the Toilet Faster!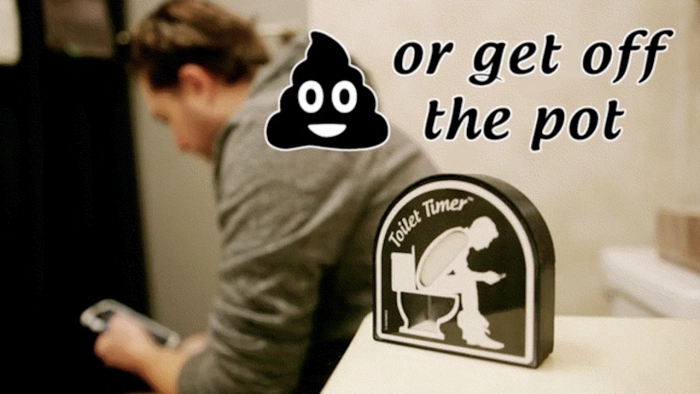 New Product Promises to Get Your Man Off the Toilet Faster!
It is a well-known fact that most men love a good poopin' sesh. They can spend SO LONG on the damn toilet that you forget they are even in the house at all. Then they wander out with their device (or People magazine) in their own good time having spent the best part of an hour on the crapper.
Meanwhile, family life is going on as usual — the dinner needs prepping, homework isn't done yet and you're standing there wondering when you get to have a forty minute break to do anything. When do we get to lock ourselves in the bathroom with a glass of wine? We'd still see little fingers poking under the door and the voices calling for us the entire time anyway so it's not worth it!
It's not fair! If we can't go off the air for longer than it takes to do a quick wee then neither should our co-parents, right?
Well, there is a fun new product available on pre-order with a Kickstarter attached — The Toilet Timer.
This magical device promises to curtail your man's toileting habits to a respectable five minutes. It is basically a little hourglass in a box, and creatively, looks like a dude taking a dump while looking at his phone, scrolling aimlessly through Reddit or Youtube. Or Redtube, maybe, if he's in there so long that he's forgotten what you look like.
"This little guy (who we've nicknamed Toilet Timer Tommy) is a reminder to stop deliberating and make a decision," says the creators, friends Adam and Elliott. "Give your favourite procrastinator (or yourself!) the gift of timeliness with a Toilet Timer."
"We hope the Toilet Timer brings a smile to your face and feeling back to your legs!"
So if your man takes ages dropping a few of his friends off at the pool, you might want to consider chipping in a few coins for this Toilet Timer.
But do you think it would actually work? I remain unconvinced. If I could opt out of life for nearly an hour I'd do it too.
Maybe they need to attach it to an air horn or something. That might help shift him.
The pair are almost at their pledge total with a promise to ship the products to their customers before Christmas if they reach their goal.
BRB, just gonna go buy my husband a useful Christmas gift…
Source: Kickstarter/The Toiler Timer