Delicious Roasted Vegetable Salad Recipe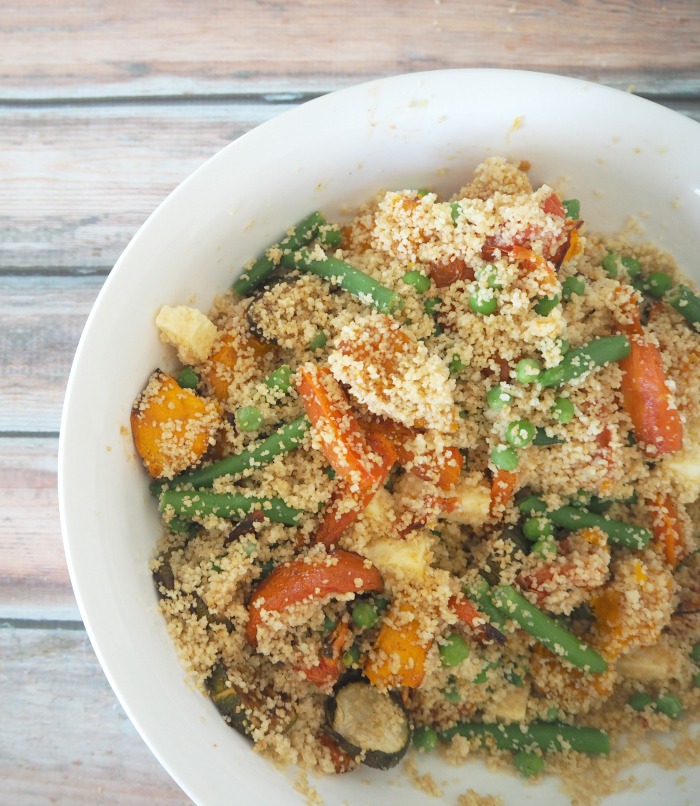 The arrival of winter signals a change in many people's tastebuds as they start craving warm and hearty meals.  Don't let the name of the recipe fool you, this Roasted Vegetable Salad is the perfect cold winter night meal as it's full of delicious and filling vegetables and tastes great when served warm.
This recipe is really versatile and you can omit or add your choice of vegetables depending on your taste preferences.  I highly recommend that you add the Fetta Cheese while all of the ingredients are still hot as it helps it to melt slightly and creates a yummy flavour throughout the dish.
Delicious Roasted Vegetable Salad Recipe
Ingredients
800g of pumpkin
4 tomatoes
1 capsicum
2 carrots
1 zucchini
½ cup of frozen peas
½ cup of frozen beans
80g of fetta
1 cup of couscous
1 tablespoon of olive oil
smoked paprika
salt and pepper
Instructions
Preheat oven to 210 degree and line a baking tray with baking paper.
Cut up the pumpkin, capsicum and carrot into small pieces which are approximately 2-3cm in size.
Cut the tomato into wedges
Place all cut up vegies onto baking tray and add approximately 1 tablespoon of olive oil and sprinkle over paprika to taste.
After 30 minutes in oven, turn the vegetables over to roast the other side.
Roast in oven for a further 20 – 30 minutes – time will vary depending on size of your vegetable pieces and how roasted you like them. I normally roast them for an hour to an hour and a quarter.
When almost roasted, cook the peas and beans in microwave with a small amount of water for approx 2 minutes.
Boil kettle and in a large bowl, combine couscous and ¾ cup of boiling water, drizzle a small amount of olive oil over couscous (up to a tablespoon). Using a fork mix together and then cover bowl for 5 minutes.
After 5 minutes check couscous, it should be soft. You can add a little extra water if you prefer it a bit softer.
Slice the fetta into small pieces
Add the roasted vegies, peas and fetta to the couscous and mix together. There will be extra liquid/juices from vegies which you can also add.
https://mumslounge.com.au/lifestyle/food/delicious-roasted-vegetable-salad-recipe/
This Roasted Vegetable Salad is the perfect accompaniment to a roast chicken or leg of lamb and is also a delicious meal all on it's own.
Do you enjoy warm salads in winter?
What vegetables would you add to this recipe?