Dijon Chicken in Bacon and Mustard Sauce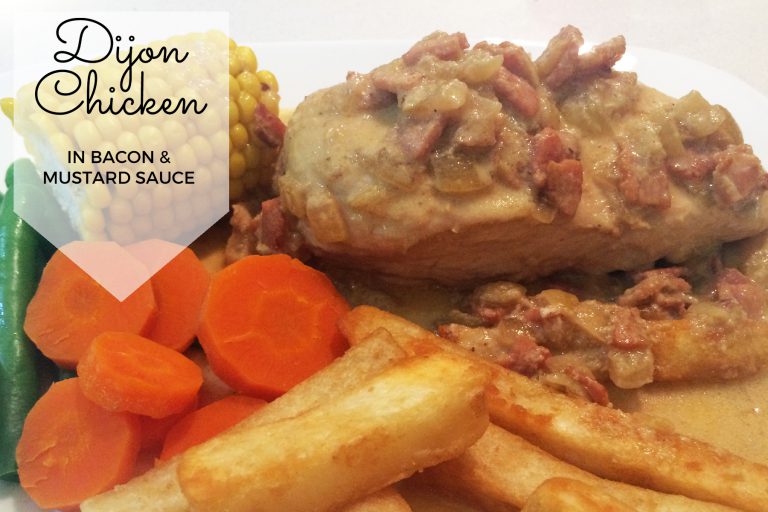 Dijon Chicken in Bacon and Mustard Sauce
Dijon chicken in bacon and mustard sauce is so full of flavour and tastes so good, I'll be making it again and again. This sauce is TO DIE FOR (did you read that in Manu's voice?) and you'll want to smother it all over your chips and veggies, then find some crusty bread to mop it up with too.
I used chicken breast fillets, only because they are easier to spread with the dijon paste. You could easily use thigh fillets instead if preferred. Whatever you use though, give this recipe a go. You won't be disappointed.
Dijon Chicken in Bacon and Mustard Sauce
Ingredients
1/3 cup Dijon mustard
¼ teaspoon paprika
¼ teaspoon salt
1/8 teapsoon pepper
8 rashers smoky short cut bacon, chopped
1 medium brown onion, finely diced
1 tablespoon olive oil
4 chicken breasts fillets
2 cups chicken stock
Oven fries and vegetables to serve
Instructions
1. Combine Dijon mustard, paprika, salt and pepper in a small bowl to make a paste. Spread the paste evenly on both sides of chicken breasts. Set aside.
2. In a large frying pan, cook bacon on medium-high heat just until it starts to brown. Remove to a plate, and add the onion and cook in bacon fat until softened. Remove to the same plate with bacon.
3. Add 1 tablespoon olive oil to the hot pan and cook the mustard covered chicken on medium heat, for two minutes on each side (we'll finish cooking it in the next step) Remove chicken to a plate.
4. Add the chicken stock to the pan and bring to boil, scraping the bottom of the pan. Return the bacon and onions and mix well. Return the chicken breasts, reduce the heat to medium and cook for about 15-20 minutes, turning chicken once, until chicken is fully cooked through.
5. Arrange chicken, oven fries and vegetables on plates and cover with the bacon and mustard sauce.
https://mumslounge.com.au/lifestyle/food/dijon-chicken-bacon-mustard-sauce/