Easiest Caramel Sauce Recipe EVER Using Just One Ingredient!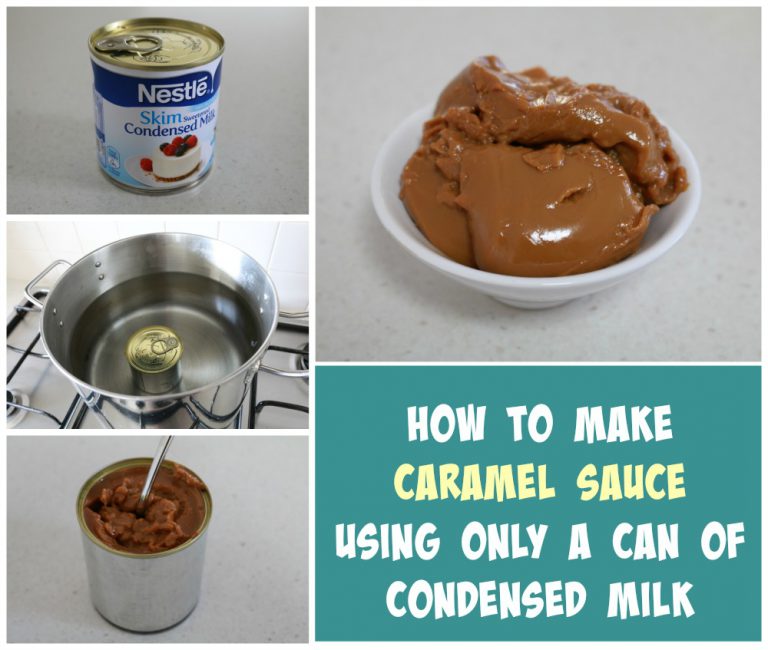 Use JUST a Tin of Condensed Milk to Make This: Easiest Caramel Sauce Recipe EVER!
Have you ever wondered if it's possible to make caramel sauce out of a can of condensed milk. Yep, just a can. Nothing else. No butter. No sugar. No cream. Nothing! Well I'm here to tell you that it's definitely possible… and it's actually really simple!
To make caramel sauce using ONLY a can of condensed milk, you'll need a fair bit of time. Yep, this is going to take a while. 3 hours to be exact. But you really don't need to do anything during that time (apart from occasionally checking on the water level), so feel free to grab a cuppa, pick up a magazine and kick back.
To begin, you'll need to take the label off a can of condensed milk. You could leave it on but you'll just end up with a yucky papery mess… and no one likes a mess! Pop the can into the bottom of a deep saucepan/pot. I'm talking the deepest one you own.
Fill the pot nearly to the top with water (well above the level of the can) and bring to the boil. Reduce heat and simmer the can for 3 hours. Now here's the really, really important part…. you must, must, MUST check your can regularly to make sure it is completely covered by the water. If the can is exposed during the cooking time, it may explode (and a caramel filled kitchen will be the least of your worries!). So every 30 minutes or so, pop over and fill up your saucepan with extra water. You'll be surprised at how much water evaporates over this time, so definitely keep checking it.
After the can has been boiling for 3 hours, take it off the heat and carefully lift it out of the pot using tongs. Set aside to cool.
When you open the can you'll discover the most rich, creamy caramel sauce ever. Seriously, it's amazing. I like to eat it from the can (please don't judge me), but you can use it in a cheesecake, slice, or even just swirled through ice cream.
If you're not going to eat it all immediately, then store the caramel sauce in an airtight container in the fridge.
So there you have it! You really can make a delicious caramel sauce using only a can of condensed milk. AMAZING!
Love this idea? Pin It for later!