Easy Corn Fritters Recipe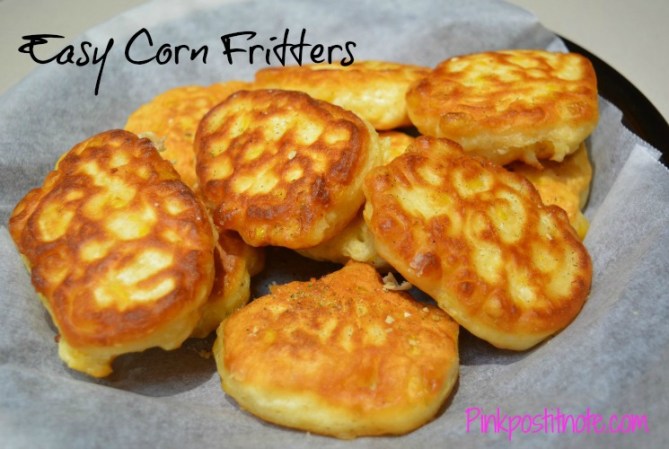 Easy Corn Fritters Recipe
I have seen Corn Fritter recipes for years and years and I have no idea why it took me so long to getting around to actually making them. It could be because my mum used to give us a lot of creamed corn from a can when we were kids which I hated and that put me off. OR, I assumed they were deep fried and as that is messy, smelly and unhealthy I gave them a miss, OR I just thought they looked like a lot of trouble? That is me, merely hypothesizing without actually really knowing the answer. Never mind, it doesn't matter because I DID get around to finally making them and don't know what I was worried about. These are so, so delicious and more-ish. And they are easy. And they are healthy. And you can dress them up any way you like? Maybe add a clove of minced garlic or a chopped up red chilli or a sliced spring onion. Or all three!
These are ready in minutes, make a perfect, easy side dish to your dinner, kids love them and best of all if you have a tin of corn in the cupboard you are ready to rock and roll! Serve them plain or add some lemon zest, salt and pepper to some Greek yoghurt for a dipping sauce.
Easy Corn Fritters Recipe
Ingredients
110g (3/4 cup) self-raising flour
pinch of sea salt
pinch of black pepper
1 egg
80ml (1/3 cup) milk
300g (10 1/2 oz) tin corn kernels, drained
vegetable oil for pan frying
Instructions
In a small bowl combine the flour, salt, pepper, egg and milk and beat with an electric mixer until well combined. Stir in the corn.
Heat about 1 cm (1/2 inch) of oil in a heavy-based frypan over medium heat. Working in batches, fry tablespoons of the mixture for 2-3 minutes, or until golden brown underneath. Flip over and cook the other side (the second side will take less time). Drain well on paper towel and serve immediately.
https://mumslounge.com.au/lifestyle/food/easy-corn-fritters/