Easy Oven-Baked Chicken Tacos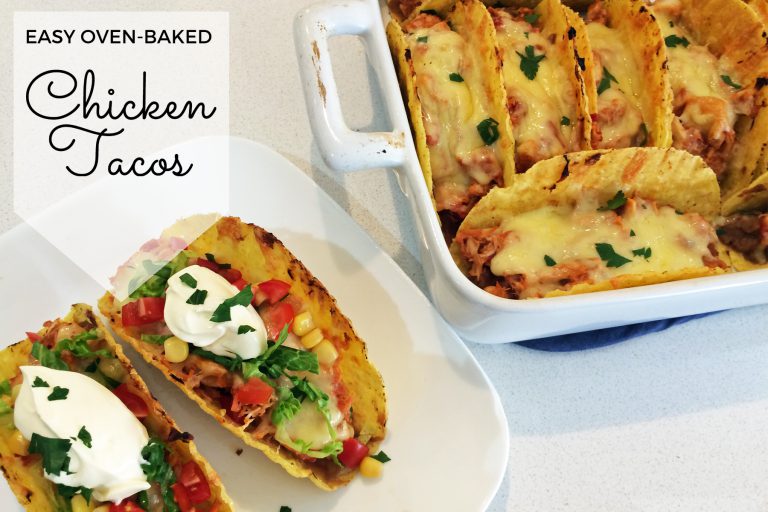 Easy Oven-Baked Chicken Tacos
This is one of those too good to be true recipes that tick every box for a quick and easy dinner. But these oven baked chicken tacos really are that good! Super easy to throw together and on your table in about twenty minutes.
Here's what you'll need to grab at the shops on the way home:
A barbecue chicken, a packet of stand and stuff taco shells, a packet of taco seasoning, a tin of refried beans, a tin of diced tomatoes, grated cheese, sour cream, lettuce, tomato, onion and corn kernels. Or whatever taco toppings you love best, chillies, capsicum, salsa, whatever. Grab them too!
Stand all your taco shells in a big old lasagne dish like pictured below. Then place about a tablespoon of refried beans in the bottom of each one.
Then top with your chicken mixture – this is just some fried onion, the tin of diced tomatoes, the meat from the chicken and the taco seasoning cooked together for about 5 minutes or so. Easy. If you wanted to use some tinned chillies to spice it all up a bit, you would add them here too.
Then top with cheese and bake for 12 minutes!
Meanwhile, get your toppings ready.
Check out these bad boys! All soft and crispy and melty and yum!
Seriously, you have to give these a go. Couldn't be easier.
Top with your favourite taco toppings and serve!
Easy Oven-Baked Chicken Tacos
Ingredients
1 tbsp olive oil
1 barbecued chicken, meat removed and chopped
1 packet taco seasoning
1 small onion, finely diced
1 tin diced tomatoes
1 tin chopped green chilies (optional)
10 Stand and Stuff Taco Shells
1 tin refried beans
2 cups grated tasty cheese
Toppings such as sliced jalapenos, sour cream, salsa, chopped coriander, shredded lettuce, finely chopped tomato, corn kernels
Instructions
Preheat oven to 200deg C. Spray a 9x13 baking dish with canola spray and set aside.
Heat olive oil over medium heat in a medium frying pan and add onion. Cook for 2-3 minutes, or until the onion is translucent and fragrant.
Stir in the chicken, taco seasoning, tomatoes, and green chilies (if using). Reduce heat to simmer and allow to cook for 5 minutes.
Place the taco shells in the baking dish, standing up. Spoon 1 tablespoon of beans into the bottom of each taco shell. Top with the chicken mixture, almost to the top of each shell. Sprinkle each shell generously with grated cheese and bake for 12 minutes or until cheese is fully melted and the edges of the shells are browned.
Remove from the oven and top with your favourite taco toppings. Serve immediately.
https://mumslounge.com.au/lifestyle/food/easy-oven-baked-chicken-tacos/