Win an Assortment of Inflatable Pool Toys from Cheap as Chips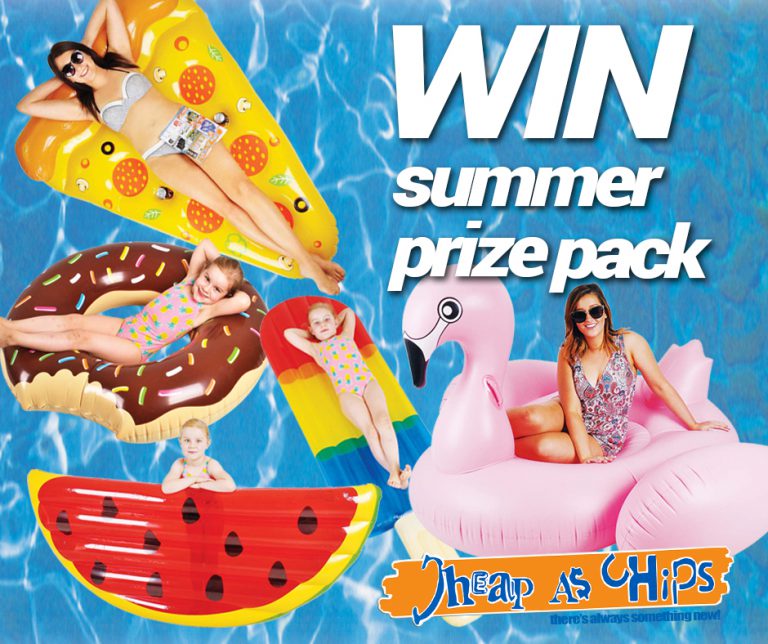 Win an Assortment of Inflatable Pool Toys from Cheap as Chips
School's out for summer!
It's time to ditch the early morning alarm clock, preparing school lunches and running children from one sports activity to the next! It's time to relax, enjoy the warm weather and spend some quality time together as a family!
Whether you need a shady place to set up camp for the day, or you plan to head to the beach or the nearest swimming pool, Cheap as Chips have some fantastic bargains to help you make the most of your well-deserved down-time! Need to do some last minute Christmas gift shopping? Don't waste time in busy shopping malls, head to your nearest Cheap as Chips store and take care of it in next to no time!
Click here to view the full catalogue
Our Top Picks This Week…
This outdoor hammock complete with mosquito net priced at$199 is the perfect way to relax with a good book this summer! Move over kids…Mum's got some relaxing to do!
Avoid having to leave your comfy hammock and your book overtime one of your children decides they need something to drink, by setting up a cool drink dispenser beforehand! Seriously! You could even set yourself up with a cocktail version!
And don't forget to prep the fruit! You know that as soon as you look like you might possibly be about to put your feet up, someone will say that they are 'starving!' Not just hungry! But starving…which means that they expect you to get up out of the hammock this very instant to prepare a snack!
Pick up a pair of virtual reality glasses for just $13!
Make entertaining guests over the summer months easier with this stainless steel buffet warmer for just $49.
Or pick up this gorgeous gazebo for $249 – great for camping, parties, or in the backyard!

Giveaway
Cheap as Chips are giving readers in SA, VIC and NSW the chance to win an Inflatable Pool Toys Prize pack, consisting of 5 fun novelty pool toys.  For your chance to win complete the entry form below.  Good luck!
a Rafflecopter giveaway