Low Fat Creamy Pasta Sauce Recipe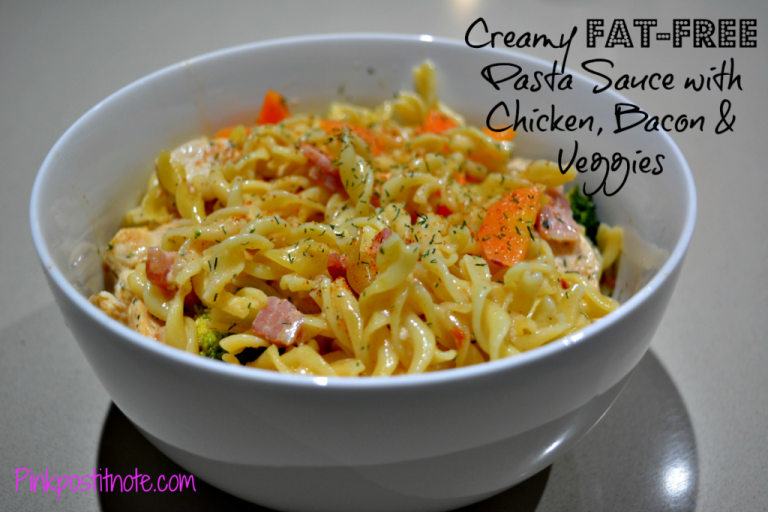 Low Fat Creamy Pasta Sauce Recipe
How does a recipe for pasta with a creamy sauce that tastes naughty but isn't grab you?
I came up with this recipe kind of by accident several years ago when I couldn't be bothered going to the supermarket; I had bacon, I had chicken, I had pasta and a few vegetables but I didn't have any cream for the sauce so I opened some evaporated milk and poured it in and it was sensational. All the flavour with none of the guilt. Well, clearly adding bacon doesn't make it totally fat free but I'm talking about the sauce being low fat more so than the rest of the ingredients but a few slices of bacon won't add much fat anyway.
What was even better was that my kids absolutely loved this too – plenty of flavour from the garlic, paprika, dill and chilli and it was filling and delicious.
Low Fat Creamy Pasta Sauce Recipe
Ingredients
1 can light and creamy Carnation evaporated milk
250g small spiral pasta
2 slices bacon, diced
2 chicken breasts, finely diced
1 tsp sweet paprika
1 tsp garlic powder
1/4 tsp chilli flakes
1 tsp dill weed
olive oil, for frying
broccoli, cut into florets
carrot, sliced
Instructions
Add pasta to large pot of salted, boiling water. Cook until al dente and set aside.
Cook broccoli and carrot to your liking, set aside.
Meanwhile, cook bacon in large fry pan until almost done, then add chicken pieces and brown. Add a little olive oil if there's not enough fat in the pan from the bacon. Then pour in the evaporated milk, add spices and stir through. Add the drained pasta and drained vegetables and stir through the bacon, chicken, sauce mixture. Season with salt and pepper.
https://mumslounge.com.au/lifestyle/food/fat-free-creamy-pasta-sauce/