Chocolate Mint Caramel Cake Recipe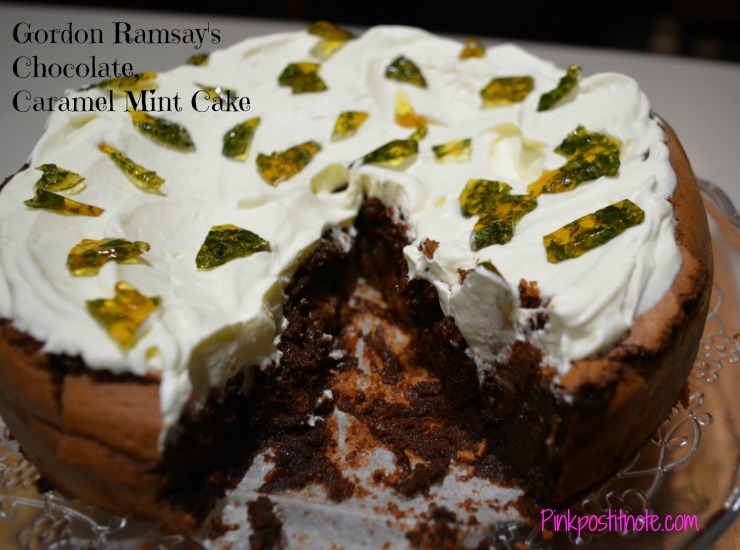 Chocolate Mint Caramel Cake Recipe
I watch a TON of cooking shows and I love them all. Well, most of them anyway. I wasn't such a big fan of Huey's cooking show. He's a nice guy and a good cook but I found it irritating the way he would always drop things or stumble with his words and his big wooden spoon annoyed me too. OK, so I'm not the most tolerant person. I love watching Jamie Oliver too but I haven't had a lot of success with his recipes. He's a bit haphazard with his quantities. One time I watched him make a tray of oven roasted vegetables in a pizza oven. He poured an entire bottle of balsamic vinegar over the whole tray and he swore by it. He even said the cheaper the vinegar, the better.  So I did exactly as he demonstrated and destroyed an entire tray of vegetables. They were literally inedible, they were so sour. And why must ingredients be sprinkled from a height? It's not going to make them taste any different. And don't even get me started on his 15 minute meals. It's not actually 15 minutes if you have hot pans, boiled kettles and ingredients already sitting beside you. Um, that all takes time to do.
But two of my favorite cooks are Nigella and Gordon Ramsay. I watched them both make cakes like these on their shows. Nigella's is called a Chocolate Cloud Cake and Gordon's is called Chocolate Mint Caramel Cake. They are both made with no flour; just chocolate, butter and eggs and then topped with cream. Gordon's is different because he adds some caramel shards spiked with mint. They go in the cake and on top as a decoration. And both cakes are sensational as a decadent dessert. They look very unassuming when sitting on a cake stand but when you cut into them, you get a rich, fudgey piece of heaven almost like a lava cake even if it's been sitting around waiting to be eaten for hours and hours.
There is a whole other dimension of flavour and texture with the addition of these caramel mint shards and it is the perfect way to finish off a special meal. It's not too rich or too sweet but it is decadent.
Adapted from Gordon Ramsay's recipe
Chocolate Mint Caramel Cake Recipe
Ingredients
300g caster sugar, divided
Small handful of mint leaves, finely chopped
250g dark chocolate, broken into pieces
125g unsalted butter
6 eggs (4 separated - 1 egg yolk doesn't get used)
Topping
300ml thickened cream
4 tbsp. icing sugar
6-8 drops peppermint essence
Instructions
Pre-heat oven to 180C/160C fan-forced/350F.
Line a baking tray with non-stick baking paper and line a 23cm springform cake pan, sides and bottom with baking paper.
Place 100g of the caster sugar into a medium size saucepan. Sprinkle a little water over the top so it resembles sand. Over a high heat cook, swirling the pan from time to time so it cooks evenly until it reaches a deep golden colour. Sprinkle in the mint leaves and swirl to combine and quickly tip onto the prepared baking tray to cool. When cold, break into shards - half goes into the cake and the other half are reserved to top as a decoration.
While the caramel is cooling, melt the chocolate and butter together in a heatproof bowl set over a pan of simmering water without letting the bowl touch the water. Cool while doing the following:
Beat the egg whites into soft peaks, then add 100g caster sugar a little at a time until it is all mixed in. Continue beating until stiff glossy peaks are reached.
In a separate bowl beat 2 whole eggs plus 3 egg yolks with remaining 75g of the caster sugar until thick, light and fluffy. Add the melted chocolate mixture to this bowl, then fold in half the crushed mint caramel.
Stir through 1 tbsp. of the egg white mixture, then gently fold the rest of the egg whites through.
Spoon into the pan and bake for 35-40 minutes or until the cake has risen and the centre is no longer wobbly. Cool in the tin.
When cold, transfer to a serving plate.
To make the topping whip the cream, sugar and peppermint extract together until thick and holding its shape.
Spoon over the surface of the cake and scatter the reserved caramel shards on top and serve.
https://mumslounge.com.au/lifestyle/food/chocolate-mint-caramel-cake/