Gordon Ramsay's Sage & Ricotta Stuffed Chicken Breasts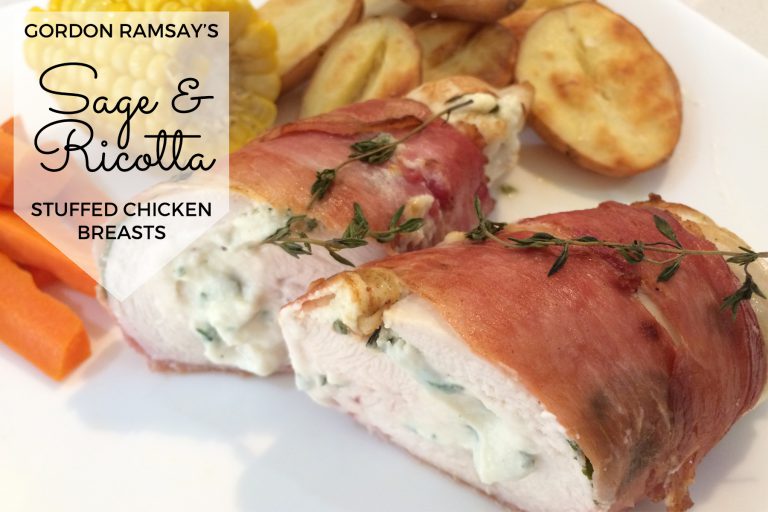 Gordon Ramsay's Sage & Ricotta Stuffed Chicken Breasts
I've never made a Gordon Ramsay recipe before, and I'm starting to wonder why it took me so long to give one of his creations a try — this is amazing! Tender, juicy chicken stuffed with creamy sage and ricotta, all wrapped up in salty, crisp prosciutto. Just seven ingredients needed, a little bit of prep ahead of time then about half an hour cook time and this delicious stuffed chicken breast can be on your table too.
Here's what you'll need:
Some chicken breast fillets, prosciutto, ricotta, salt, pepper, olive oil, fresh sage and fresh thyme. Plus whatever you want to serve it with — we roasted some baby potatoes in lots of salt and olive oil and served them with corn on the cob and carrots.
You'll need to prep the chicken a couple of hours ahead of time, because they need to firm a little in the fridge before baking. So keep that in mind if you are planning on making this meal.
First, combine the ricotta and chopped sage in a bowl with some salt and pepper. Then trim the chicken breast fillets to remove any fat and yucky bits, then slice a pocket in the side of the thickest part and open it out like a book. Add some ricotta mix, then close. Place two slices of prosciutto on a board slightly overlapping and place a sage leaf on top. Then place the chicken on top and roll up.
Wrap in cling film and chill for a few hours to firm. Then heat the oil in a frying pan and sear each chicken breast on all sides and remove to a plate.
Put them in a baking dish in the oven with some thyme on top and bake for another 15 minutes.
Serve with potatoes and veggies for a complete meal, and enjoy!
Gordon Ramsay's Sage & Ricotta Stuffed Chicken Breasts
Ingredients
4 large chicken breasts fillets
8 sage leaves
5 heaped tbsp ricotta
Sea salt and black pepper
8 Prosciutto ham slices
11/2 tsp olive oil
Handful of thyme sprigs
Instructions
Finely chop 4 sage leaves, then mix into the ricotta and season with salt and pepper to taste. Cut a deep slit along one side of each chicken breast, without slicing right through, then open it out like a book.
Lay two prosciutto slices on the board, overlapping them slightly. Put a sage leaf in the middle and lay an open chicken breast on top. Spoon a quarter of the ricotta mixture onto the middle of the chicken, then fold the sides together again, to enclose the filling. Wrap the prosciutto around the chicken. Wrap in cling film. Repeat with the rest of the chicken breasts and chill for 1-2 hrs to firm up slightly.
Heat the oven to 180°C and place a roasting pan in the oven to heat up. Heat a frying pan and add the olive oil. When hot, fry the chicken for 2 mins on each side until browned. Lay a few thyme sprigs on each chicken breast, then place in the hot roasting pan. Cook in the oven for 12-15 mins, depending on size, or until the meat feels just firm when lightly pressed.
Rest the chicken, covered with foil, in a warm place for 5-10 mins. Slice each stuffed breast thickly on the diagonal and arrange on warm plates. Serve with steamed greens and light mashed potatoes or a zesty couscous.
https://mumslounge.com.au/lifestyle/food/gordon-ramsays-sage-ricotta-stuffed-chicken-breasts/