Greek-Style Lamb Sausage Salad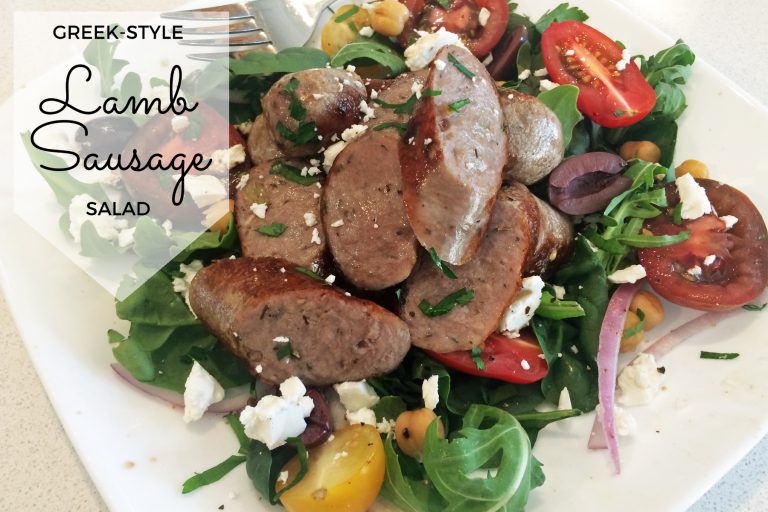 Greek-Style Lamb Sausage Salad
Switch up boring old sausages with this scrumptious Greek-style lamb sausage salad! Grill or barbecue the lamb sausages and pair with a fresh salad for a quick and easy summer meal.
Here is what you'll need:
I think it goes without saying that I am a lady who can sniff out a bargain from the other side of the supermarket. In fact, I was following the guy with the markdown trolley around the store. I bought two packets of these gourmet lamb sausages for 85c each, reduced by 90%! Straight into the freezer they went until I could figure out what to make with them!
And I've just realised that I bought a cucumber to go with my salad but forgot to use it. Bugger.
If you don't have gourmet lamb sausages, plain ones will do nicely. You'll also need a punnet of cherry tomatoes (they don't have to be fancy ones either, but if you can get a packet for 75c like me, more power to you), baby spinach, baby rocket, some kalamata olives, fresh parsley (and/or mint), a red onion, some feta cheese and a tin of chickpeas. Also, some sort of salad dressing – I made an olive oil and red wine vinegar salad dressing, but I think next time I'll stick with either balsamic vinegar or a lemon infused olive oil instead.
Grill or barbecue the sausages until cooked through, then slice thickly.
Meanwhile combine your salad ingredients on serving plates. Top with the sliced sausages and crumbled feta cheese. Sprinkle some fresh herbs over the top, season with salt and pepper and add a splash of your salad dressing.
And don't forget the cucumber! (dammit)
Greek-Style Lamb Sausage Salad
Ingredients
1 packet lamb sausages
1 small packet baby rocket
1 small packet baby spinach
1 small cucumber, chopped
1 punnet of cherry tomatoes, halved
1/2 red onion, sliced
3/4 cup of chickpeas
1/2 packet of feta cheese
3/4 cup of Kalamata olives, pitted and halved
2 tbsp chopped fresh continental parsley
2 tbsp chopped fresh mint (optional)
Salt and pepper
Salad dressing/lemon infused olive oil/balsamic vinegar to serve
Instructions
Grill or barbecue the sausages for ten minutes or until cooked. Slice thickly.
Meanwhile, arrange the salad ingredients on each plate. Top with the sliced sausages and crumbled feta cheese. Season with salt and pepper and sprinkle with herbs. Add the salad dressing of your choice and serve.
https://mumslounge.com.au/lifestyle/food/greek-style-lamb-sausage-salad/