Hasselback Chicken Recipe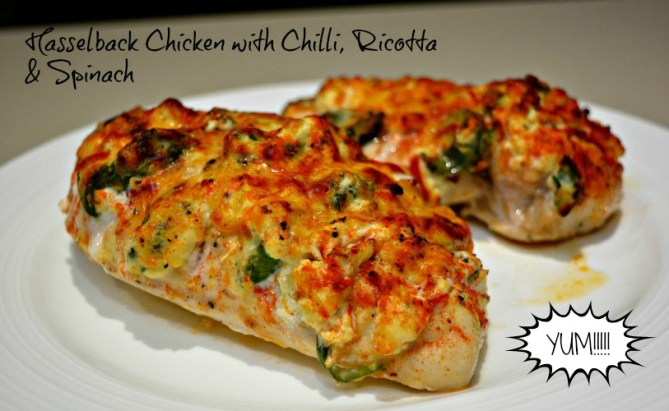 Hasselback Chicken Recipe
This Hasselback Chicken is one of the most searched recipes on my blog. Not sure if it's because of the huge popularity of hasselback potatoes (which are anything but hassle by the way) or if it's the photo I took. At any rate the method of this chicken is somewhat similar to the potatoes in so much that they are sliced nearly all the way through before having some delicious ingredients stuffed into the spaces created. Then they are baked. This literally takes 3 minutes to prepare with some baby spinach leaves, one red chilli and a small tub of ricotta cheese on the inside and a dash of tasty cheese and paprika on the inside. It goes swimmingly with a simple salad and I guarantee the whole family will love this. It was super juicy and tender. Oh, and you can totally make these up the night before, the morning of, early afternoon – whatever and pop them covered into the fridge ready to pop in the oven for dinner!
Hasselback Chicken Recipe
Ingredients
2 chicken breasts
50g ricotta
50g baby spinach leaves
1 small red chilli, seeds removed, finely chopped
sea salt & cracked black pepper
tasty cheese, to top
paprika, to sprinkle
Instructions
Pre-heat oven to 200C/425F. Line a baking tray with non-stick baking paper to save on washing up.
Toss the baby spinach leaves into a small frypan for a minute or two, stirring, until wilted. Add the ricotta and chilli and mix together. Make several cuts with a sharp knife across the width of the chicken, about an inch apart, halfway through the breast. Stuff with the ricotta mixture. Season with salt and pepper. Sprinkle a little tasty cheese and paprika on top and bake for 25-30 minutes or until the chicken is cooked through and the juices run clear. I made these up in the afternoon and popped them in the fridge until I was ready to cook them.
https://mumslounge.com.au/lifestyle/food/hasselback-chicken/