Honey Mustard Chicken & Vegetable Stew Recipe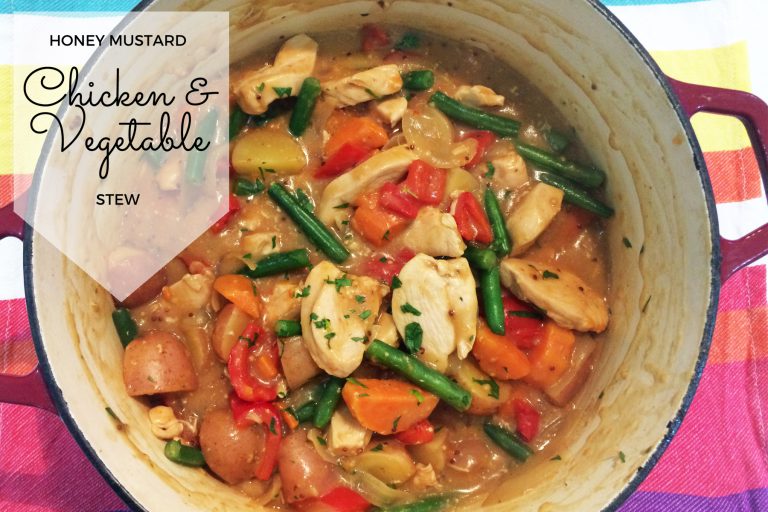 Honey Mustard Chicken & Vegetable Stew Recipe
My family loves anything honey mustard flavoured. Whether it's kebabs, Chicken Tonight, sauces, chicken wings, doesn't matter – if it's honey mustard, they are licking their plates. So I figured this honey mustard chicken and vegetable stew would be a hit and it was!
Big chunky vegetables and lovely big pieces of juicy chicken, coated in a lovely honey mustard savoury sauce and all done in the one pot, plus something the whole family will eat – its the perfect recipe!
The best part is, it doesn't have to sit stewing away for hours on end. You can be all done and dusted in a little over an hour.
Honey Mustard Chicken & Vegetable Stew Recipe
Ingredients
2 tablespoons olive oil
2 large chicken breast fillets, sliced thickly
1 brown onion, halved, sliced
2 garlic cloves, crushed
2 tablespoons plain flour
6 chat potatoes, quartered
350g orange sweet potato, peeled, cut into 3cm pieces
1 large red capsicum, thickly sliced
2 cups chicken stock
1 tablespoon wholegrain mustard
1 tablespoon honey
100g green beans, cut into 4cm lengths
1 tablespoon finely chopped fresh parsley
Instructions
1. Heat half the oil in a large, deep heavy-based frying pan over high heat. Next, cook the chicken in batches, for 5 minutes or until browned, then transfer to a plate.
2. Heat remaining oil in pan, then add the onion and cook, stirring, for 5 minutes or until softened. Then add garlic and cook for 1 minute or until fragrant. Next, add flour and cook, stirring, for 1 minute. Then finally, add the potatoes and capsicum. Cook, stirring, for 3 minutes.
3. Return chicken to pan with stock, mustard and honey and salt and pepper to taste, then stir to combine. Bring to the boil and reduce heat to low. Simmer, partially covered while stirring occasionally, for 20 minutes or until chicken is cooked through.
4. Remove lid. Increase heat to medium then simmer for 5 minutes or until slightly thickened. Stir in the beans and stand for 5 minutes. Finally, serve sprinkled with tarragon with rice or pasta and crusty bread.
https://mumslounge.com.au/lifestyle/food/honey-mustard-chicken-vegetable-stew/