Honey Soy Chicken Noodle Stir Fry Recipe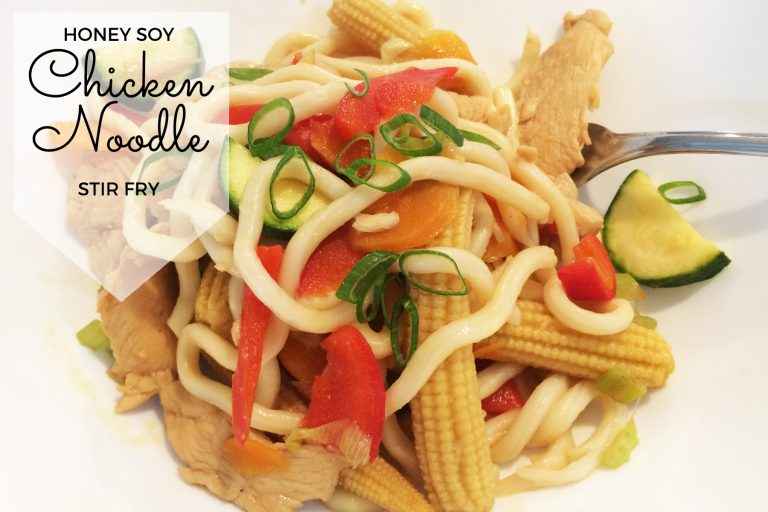 Honey Soy Chicken Noodle Stir Fry Recipe
Making this family favourite from scratch is as easy as can be. I had no idea. I've been buying packet sauces from the recipe base aisle like a chump for years. Not any more! Now that I know the ingredients, all I need to do is keep some noodles in the pantry and I can make honey soy chicken noodle stir fry whenever I want, putting all those odd bits of leftover veggies to good use as well.
Here's what I used to throw this cheap, simple and tasty meal together in about twenty minutes or so.
You'll need two chicken breast fillets, a packet of your favourite pantry-fresh noodles (I used Udon, would probably go with Singapore or Hokkien next time), soy sauce, honey, minced garlic (can use fresh, I couldn't be bothered) and then some veggies! I would recommend using whatever you have on hand to save time and money. I used some carrots, a zucchini, shallots, capsicum, a stick of celery and a tin of baby corn spears.
Make up your marinade with the soy sauce, honey and garlic and pop your chicken strips in to marinate while you prep your vegetables and the noodles.
Stir fry the chicken until just cooked, then remove to a bowl. Then stir fry the veggies until cooked and remove them to the bowl with the chicken. Pop the marinade in the wok to cook through and reduce slightly. Then return everything back to the wok with the noodles and stir to combine and reheat. Then you're done.
Couldn't be easier!!
And with a stash of chicken breasts in the freezer and some noodles in the pantry, you could have this meal on standby at all times, ready to throw together whenever you're strapped for time and/or inspiration. Those are the best recipes.
Honey Soy Chicken Noodle Stir Fry
Ingredients
2 chicken breast fillets, cut into strips
1/4 cup soy sauce
2 tbsp honey
1 tbsp minced garlic
2 tbsp peanut oil
2 medium carrots, thinly sliced
1 stick celery
1 onion, thinly sliced (or 2 shallots, thinly sliced)
1 red capsicum, thinly sliced
1 tin of baby corn
1 zucchini, thinly sliced
400g udon noodles (or whatever noodles you like)
Instructions
Combine the chicken with the soy sauce, honey and garlic. Set aside to marinate while you prepare the veggies
Heat the oil in a wok or large frying pan. Drain the chicken from the marinade (don't throw it away, you'll need the marinade later) and stir fry in batches until just cooked through. Remove from wok and set aside.
Add vegetables to wok and cook lightly, stirring constantly.
Prepare the noodles as per packet directions.
Remove the vegetables to the same bowl as the chicken and add the marinade to the wok. Bring it to the boil and allow it to reduce slightly.
Return the chicken and vegetables to the wok with the noodles. Toss to combine and serve with extra chopped shallots.
https://mumslounge.com.au/lifestyle/food/honey-soy-chicken-noodle-stir-fry-recipe/