Anzac Biscuits Recipe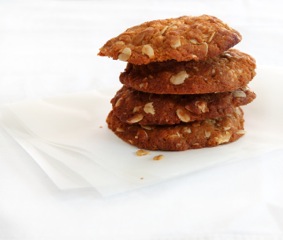 Anzac Biscuits Recipe
Ingredients (Makes about 22)
• 1 cup of plain flour
• 1 cup of rolled oats
• ½ a cup of dessicated coconut
• ½ a cup of caster sugar
• 100g of butter or margarine
• 2 tablespoons of golden syrup or treacle
• ½ teaspoon of bicarbonate of soda
• 1 tablespoon of hot water
This is how we do it!
Step 1: Preheat the oven to 160°C or 325°F. Mix the oats, flour, coconut and sugar together in a bowl.
Step 2: Place the golden syrup and butter in a saucepan over low heat and melt them. Mix the bicarbonate of soda with the water and add to the butter mixture. Add this to the dry ingredients in the bowl and mix them well together.
Step 3: Place tablespoons of the mixture on baking trays that you have lined with non-stick baking paper. Make sure that you place them about 3cm or about an inch apart so that they have enough room to spread, and flatten them slightly.
Step 4: Bake them for about 10 minutes or until they have a nice golden colour. Cool on wire racks.
Enjoy!!
About Aunty Rozzy:
Aunty Rozzy is one of Australia's much loved kid's "edutainers". Aunty Rozzy, together with her sidekicks "Perry the Parrot" and "Harriette the Rabbit" are doing their part in the veggie revolution by providing a fun way to encourage healthy eating http://www.auntyrozzy.com/
For further information or to arrange an interview contact: Ros Tesoriero at Aunty Rozzy on 0423 872 327 [email protected]