Indonesian Stir-Fried Noodles with Chicken and Pork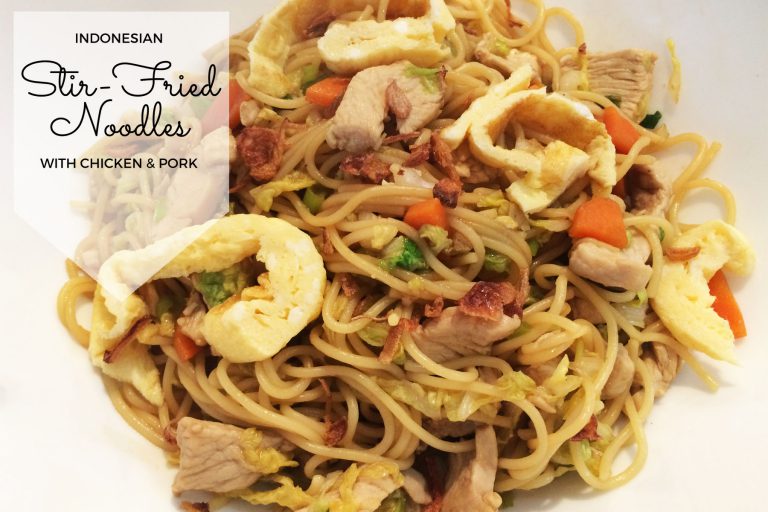 Indonesian Stir-Fried Noodles with Chicken and Pork
I've made stir fries for my family before, and every time they've picked out all the good bits and left the rest without a care in the world. But not this stir fry! They loved it. They ate the lot! It's more noodles than veg, which makes it undoubtedly more kid-friendly (yes, yes I know) and it has a lovely mellow flavour that enticed my youngest to lick her bowl.
I'm still in shock.
This is the child that loves chicken nuggets and macaroni cheese above all else, giving you an indication of her five-year-old palate. She loved this yummy noodle dish and so I shall definitely be making it again!
Here's what you'll need to get this one on your table.
One chicken breast fillet and two pork loin chops — feel free to use one or the other or both, but keep the meat quantity about the same. Cut the meat off the bone and slice thinly. Also, two eggs, some garlic, a carrot, celery, half a Chinese cabbage, some shallots (fresh and fried), chicken stock, peanut oil, soy sauce and my favourite, kecap manis or sweet, sticky soy sauce. Ohh that stuff is da bomb, y'all.
You'll also need some Chinese egg noodles. You could probably get away with angelhair pasta, but I got a big bag of these egg noodles for about $3 and I now have enough to make this meal four times. Look for them in the Asian foods section of your local supermarket.
As will all stir fries, you'll need to do all your prep first. Because you're not going to have time to mix and chop while you're cooking.
First up, cook your egg noodles in boiling water until cooked, about 3 or 4 minutes. Drain and refresh in cold water, then drain again.
Make a little omelette with your eggs and remove to a plate. Chop everything up ready to go, and mix up your sauce.
You need to have everything set out like this, ready to stir fry. This is what takes the longest, when you're at this point, you're less than ten minutes away from eating your delicious dinner.
Okay, now add some oil in your wok or frying pan, then cook the meat and garlic. Then add the veggies and sauce, then the noodles. Now stir fry until it is all mixed well and cooked through. Divide among serving bowls and top with sliced egg and fried shallots if using (my kids do not care for onions in any form).
Enjoy!
Indonesian Stir-Fried Noodles with Chicken and Pork
Ingredients
3 tablespoons peanut oil, divided
2 large eggs, lightly beaten
170g dried Chinese egg noodles or spaghetti
1 skinless, boneless chicken breast, thinly sliced
2 boneless pork loin chops, sliced
2 garlic cloves, minced
½ Chinese cabbage, thinly sliced
3/4 cup sliced shallots
1 celery stalk, thinly sliced
1 carrot, quartered lengthways, thinly sliced
3 tbsp chicken stock
1 tbsp kecap manis (sweet soy sauce)
1 tbsp soy sauce
1/2 cup packaged fried onions
Instructions
Heat 1 tablespoon of oil in a large nonstick wok or pan over medium-high heat. Pour eggs into pan and swirl to form a thin omelette. Cook for 1 minute or until cooked on the bottom. Carefully turn omelette over and cook for another 30 seconds. Remove from pan, roll up and cut roll crosswise into thin strips. Keep warm.
Cook noodles according to package directions. Drain and rinse with cold water, then drain again and set aside.
Heat a wok over high heat. Add 2 tablespoons oil and swirl. Add chicken, pork, and garlic, and stir-fry 1 1/2 minutes or until cooked through. Add cabbage, shallots, carrot and celery. Stir-fry for 1 minute. Stir in stock, kecap manis, and soy sauce. Add noodles and stir-fry for 3 minutes or until thoroughly heated and noodles begin to lightly brown. Serve immediately topped with egg and fried onions.
https://mumslounge.com.au/lifestyle/food/indonesian-stir-fried-noodles-chicken-pork/