Jack Daniel Burgers with Smoky Cheese Sauce Recipe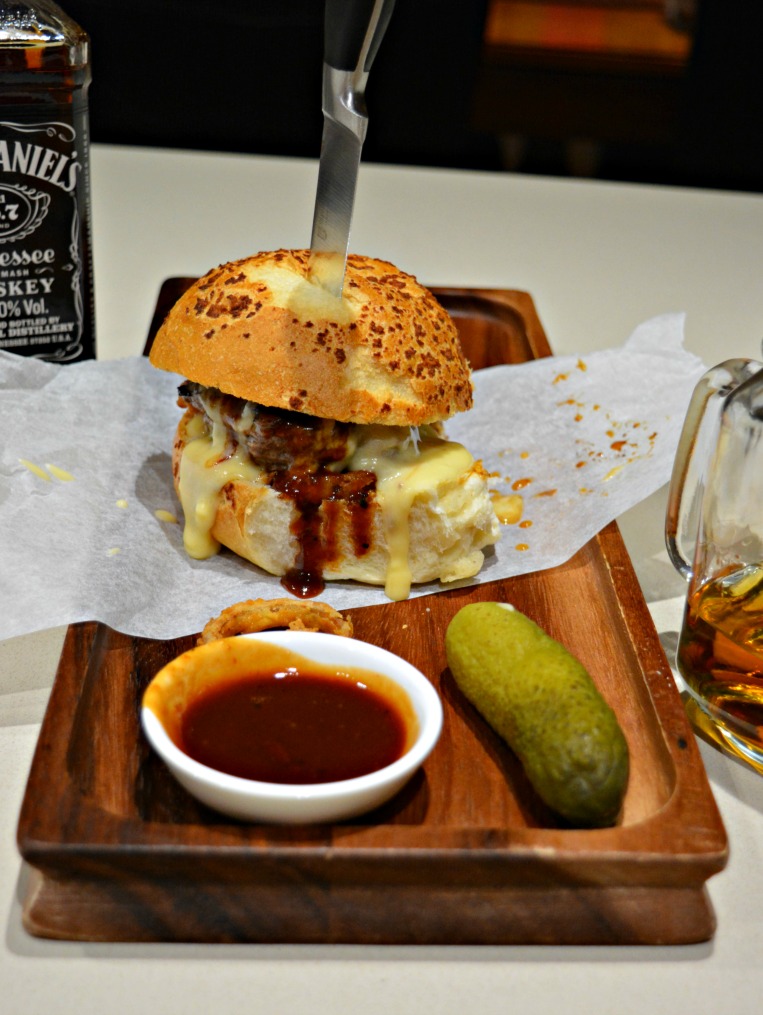 Jack Daniel Burgers with Smoky Cheese Sauce Recipe
I have a confession. I am addicted to 'Dude Food'. Smoky pulled pork, hot dogs smothered in chilli and melted cheese, nachos, onion rings, etc. But burgers are my number one hands-down favorite. And I think the less you put on a burger, the better they inevitably are. None of this beetroot, pineapple, egg caper no thank you. All you need is the perfect patty, the perfect sauce and melted cheese. Heaven.
These burgers are inspired from a recent visit to a Food Truck carnival. There were massive queues lined up for Mr. Burger and there were only 5 items on Mr. Burger's menu. Mr. Burger, Mr. Cheese, Mr. Hot, Mr. Double and I forget the last one. I ordered Mr. Hot and it was sensational.  A juicy patty, a soft bun, a couple of crispy onion rings, the perfect sauce and melted cheese. I was still thinking about it the next morning so I had to come up with my own version and these fit the bill superbly.
The whisky sauce is ready in 5 minutes. Set aside and forget it. The cheese sauce is also ready in 5 minutes and can be set aside (in the fridge if you are going to do it real early, then re-heat it in the microwave or gently on the stovetop). The onion rings take literally 3 minutes to cook and you can make them first and keep them warm in the oven. Trust me. Make these burgers.
Jack Daniel Burgers with Smoky Cheese Sauce Recipe
Ingredients
Whisky Sauce
1/4 cup ketchup
1/4 cup whisky
2 tbsp. soy sauce
2 tbsp. honey
1 tsp Dijon mustard
1 tsp Worcestershire sauce
1/4 tsp cayenne pepper
1/4 tsp black pepper
Smoky Cheddar Cheese Beer Sauce
2 tbsp. flour
2 tbsp. butter
1/4 cup milk
1/4 cup beer
100g grated smoked cheddar cheese
sea salt & cracked black pepper
Crispy Onion Rings
1 red onion, thickly sliced into rings
1 cup buttermilk
1 cup self raising flour
2 tsp salt
Pinch of cayenne pepper
vegetable oil for shallow frying
500g regular beef mince
4 bread rolls
Instructions
Whisky Sauce: Place all ingredients in a small saucepan. Bring to the boil, reduce to a simmer for 5 minutes or until slightly thickened. Remove from heat and set aside until ready to use.
Smoky Cheddar Sauce: Place the flour and butter in a small saucepan over low heat until butter is melted. Thoroughly mix together and then very slowly add the beer and milk, whisking constantly until thickened. Add the cheese and stir until melted and thick. Season to taste and set aside until ready to use.
Onion Rings: Soak the sliced onion in the buttermilk until ready to cook. Mix the flour, salt and cayenne pepper together in a small bowl. Heat enough vegetable oil to cover the bottom of a small fry pan until the handle of a wooden spoon dipped into the oil bubbles instantly. Drain the buttermilk from the onion and toss them in the flour mixture. Fry the onion rings in batches until golden on both sides (about 30-60 seconds per side). Drain on absorbent paper and keep warm in a low oven.
Burgers: Divide the beef mince into four and gently shape into patties, trying not to compress the meat too much. With your index fingers gently make an indent on top. Fry for 3-4 minutes per side or until done to your liking.
Assembly: Cut the buns in half, place a burger on the bun and drizzle the whisky glaze all over the pattie. Top with plenty of cheese sauce and the top half of the bun.
https://mumslounge.com.au/lifestyle/food/jack-daniel-burgers-smoky-cheese-sauce/