Lamb & Rosemary Pie Recipe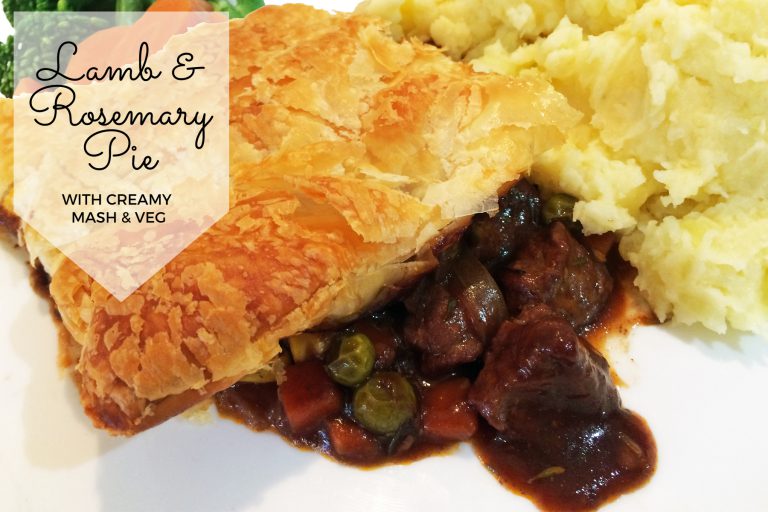 Lamb & Rosemary Pie Recipe
Cheese and bacon, tomato and basil, strawberries and champagne — some foods just go together like peas and carrots, don't they? Lamb and rosemary are best friends, as Jamie Oliver would say, and when you invite their other mate, red wine, you get a divinely quick and easy match made in heaven!
This is a seriously good recipe and a very versatile one. You could easily use lamb sausages instead of diced lamb if preferred, or you could make a shepherd's pie instead with a mashed potato topper.
First up, you'll need to pop a little olive oil into a big heavy based frying pan and brown the diced lamb. Add the onions and saute until they've softened a little. Then add the rest of the casserole ingredients — red wine, beef stock cube and water, rosemary, frozen diced vegetables — and allow to simmer for a few minutes.
Then it's just a matter of letting it cool slightly and pouring the lot into a pie dish. Top with a square of puff pastry and place the pie in a hot oven for 15 minutes or until the pastry is crisp and golden. You can brush the pastry with an egg wash or spray with olive oil if you like, but I didn't bother and the result was just as good. I can be a bit lazy sometimes!
Serve your lamb and rosemary pie with plenty of creamy mashed potatoes and steamed veggies for a complete meal. Enjoy!
Ingredients
2 teaspoons olive oil
450g lamb, diced
1 onion, finely chopped
1 tbsp fresh rosemary, finely chopped or 1 tsp dried rosemary
1 tablespoon tomato paste
1 cup red wine
1 beef stock cube
1 cup boiling water
1 cup mixed frozen vegetables
1 tsp cornflour
1 tsp sugar
1 sheet frozen puff pastry, thawed
Mashed potatoes and veggies to serve
Instructions
Preheat oven to 220C. Heat the oil in a frying pan over medium-high heat. Cook lamb until almost cooked through then add onion and cook for 3 to 4 minutes or until softened. Add tomato paste, wine, rosemary, stock cube dissolved in water, and frozen veggies, and bring to the boil. Reduce heat to medium-low. Simmer for 5 minutes. Taste the casserole and if the wine is too overpowering, add a teaspoon of sugar.
Blend cornflour with a quarter of a cup of water and stir into the pan. Simmer for 5 minutes until thickened slightly and remove from heat. Stand for 10 minutes to cool slightly.
Pour casserole into a pie dish and place pastry over filling. Press edge with a fork to secure. Trim edge. Cut a small slit in the centre of pie to allow steam to escape. Bake pie for 12 to 15 minutes until pastry is golden and puffed. Serve with mashed potato and veggies.
https://mumslounge.com.au/lifestyle/food/lamb-rosemary-pie-recipe/