Muffin Topped Beef Stew Recipe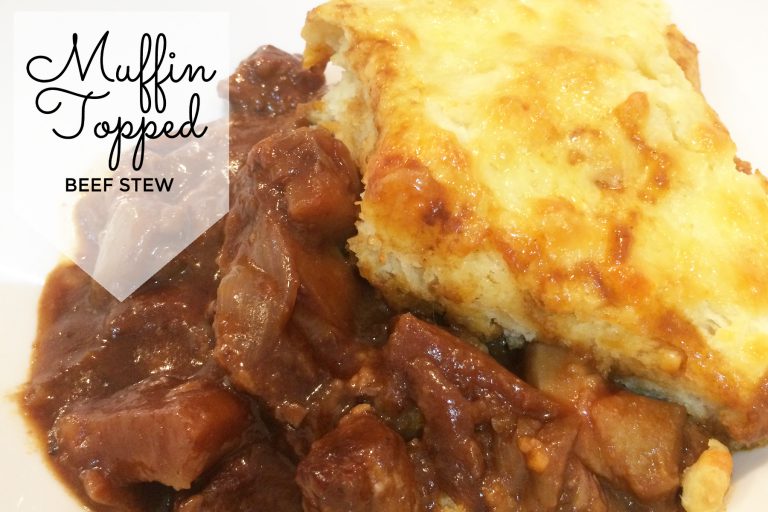 Muffin Topped Beef Stew Recipe
A great way to serve a hearty beef stew is to cook it with a muffin top!
Similar to dumplings, this cheesy muffin topper adds a whole new dimension to a boring old stew and honestly, who doesn't love a muffin top?
The stew itself is tasty, with the flavours of red wine and root vegetables — definitely a winning combination. My family gobbled this meal up very quickly and demanded more muffin because of course they did. Kids love muffins too, even cheesy savoury ones.
Here's what you will need to make this delicious muffin topped beef stew:
Casserole steak, carrots, parsnips, an onion, beef stock, tomato paste, bay leaves, salt and pepper, olive oil and red wine. And for the muffin top, baking powder, grated cheese, milk, plain flour and more olive oil.
First of all, heat a big flameproof casserole dish and fry the chopped casserole steak in batches until browned all over. Remove and cook the onions until softened, then add the vegetables, tomato paste, bay leaf wine and stock.
Pop it in the oven for around two hours and pour yourself a nice glass of wine and have a sit down for a bit while the delicious beefy smells fill your house.
Then it's just a matter of making your muffin dough by sifting the flour and baking powder, adding the cheese, milk and oil and kneading until nice and doughy. Roll it to roughly the size of your casserole dish and then pop on top of the stew with some more grated cheese and put it back in the oven for another fifteen minutes or until it is golden, risen and cooked through.
I hope you enjoy this recipe as much as we did!
Muffin Topped Beef Stew Recipe
Ingredients
For the stew-
500g casserole steak, cut into bite-sized chunks
2 tbsp plain flour, seasoned with salt and pepper
2 tbsp olive oil
1 large onion, finely chopped
2 large carrots, cut into chunks
2 large parsnips, cut into chunks
1 bay leaf
2 tbsp tomato paste
250ml red wine or extra stock
500ml beef stock
For the topping-
1 1/2 cups plain flour
3 tsp baking powder
140g grated cheese
2 tbsp olive oil
150ml milk
Instructions
Heat oven to 150C. Toss the beef in seasoned flour. Heat the oil in a large flameproof pan and fry the beef in batches over a high heat until browned all over.
Add 2 tbsp water and the onion to the pan, and stir well over a medium heat, scraping up the crusty bits from the bottom of the pan. Lower the heat and fry gently for 10 mins, stirring occasionally until the onions have softened.
Add the carrots, parsnips and bay leaf, then fry for 2 mins more. Return the beef to the pan, stir in the tomato paste, wine and stock, then bring to the boil. Cover and cook in the oven for 1¾-2 hrs until the meat is tender. Remove from the oven and increase the temperature to 190C.
To make the topping, sift the flour and baking powder into a bowl and add half the cheese. Mix olive oil and milk, then stir into the flour to make a soft, slightly sticky dough. Add more milk, if necessary. Spoon the dough over the meat and vegetables, sprinkle with the remaining cheese and bake for about 15 mins until golden, risen and cooked through. Serve immediately.
https://mumslounge.com.au/lifestyle/food/muffin-topped-beef-stew-recipe/