One Pan Chicken Alfredo with Penne Recipe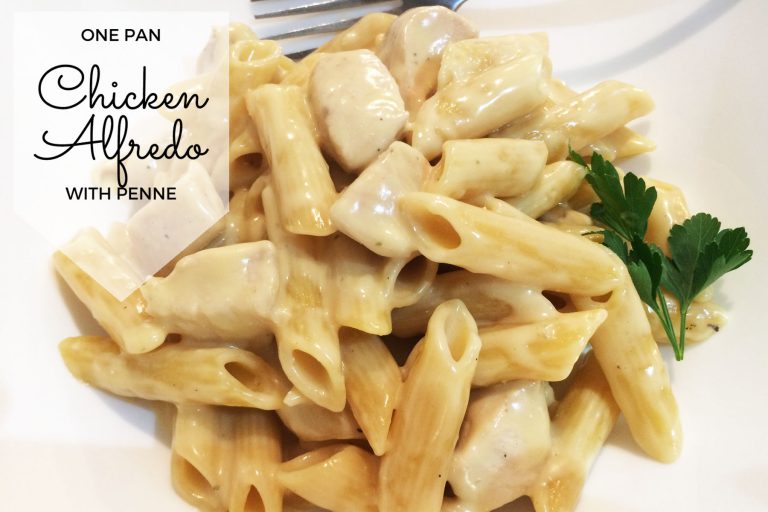 One Pan Chicken Alfredo with Penne Recipe
This delicious creamy cheesy garlicky pasta is a real winner, and it is so simple to make. Best of all, you just have to saute some chicken then throw the rest of the ingredients into the pan and walk away for twenty minutes! How good is that?
Real good, let me tell you!
Here's what you'll need to cook this guaranteed plate-licker.
Super simple – you'll need some chicken breast fillets, garlic, cream, chicken stock, parmesan cheese, olive oil, salt and pepper, and a packet of penne pasta.
Cut the chicken into bite-sized pieces, heat the oil in a large, heavy-based pan that has a lid (very important) and cook the chicken until it changes colour. You don't need to cook it all the way through as we'll be simmering it with the sauce a bit later on.
Add the crushed garlic and cook for a little bit more. Then add the chicken stock, cream and uncooked pasta and give everything a good stir. Bring to the boil, making sure all the pasta is a little bit submerged in the liquid, then reduce heat until the pan is gently simmering. Pop the lid on and allow to simmer for 15 to 20 minutes or until the pasta is just tender.
Take it off the heat, throw in the parmesan cheese and stir to combine. It will melt through the sauce, making it deliciously gooey and cheesy. It smells like heaven at this point, you guys!
Spoon it into bowls and enjoy! Hope you liked it as much as my family did!
One Pan Chicken Alfredo with Penne
Ingredients
3 tablespoon of olive oil
1-2 chicken breast fillets, cut into bite sized pieces
3 cloves of garlic, minced
3 cups of chicken stock
300ml cream
1 packet of penne pasta, uncooked
2 cups of freshly grated parmesan cheese
Salt and pepper
Instructions
Season chicken with salt and pepper. Set a large frying pan on medium high heat add olive oil. Cook chicken until it changes colour, just a couple of minutes.
Add minced garlic and sauté for another minute. Add chicken stock, cream, and uncooked pasta to pan and stir.
Bring to a boil, then cover and reduce heat. Simmer for 15-20 minutes or until pasta is tender.
Remove from heat and stir in grated parmesan cheese. Season with salt and pepper to taste, and serve immediately.
https://mumslounge.com.au/lifestyle/food/one-pan-chicken-alfredo-penne-recipe/