There is a Problem When We See an Innocent Photo of Kids Playing and Scream "They're Being Sexualised!"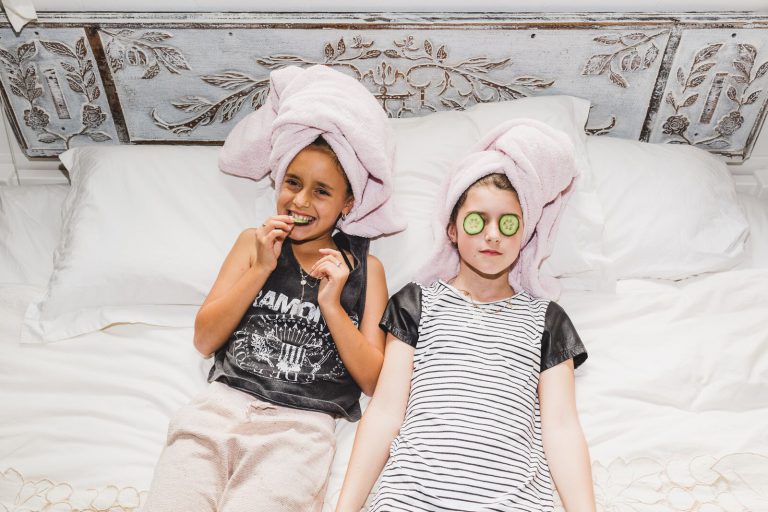 There is a Problem When We See an Innocent Photo of Kids Playing and Scream "They're Being Sexualised!"
Open minded.
That's how we would describe ourselves here at My Super Nanny.
Providing beliefs and opinions don't intentionally offend others, we believe that everyone is entitled to their own. If you wear Crocs, so be it. If you follow Kylie Jenner on Snapchat, so be it. If you think Donald Trump's tan is real, so be it.
But like a bra with shitty underwire, this is an opinion we had to get off our chest.
We've had numerous complaints (we're being generous there actually, they're more like rants) from quite a few people, stating that these images are quote 'inappropriate' and 'sexualising children'.
Really?
Like, really – really?
We've got two points to raise here, so bare with us.
First – is looking at the overall image for what it is; kids playing dress ups.  A kid has some undies on his noggin, another has gotten amongst the feather bower, another has whacked on a bra. Granted, some kids get around in this sort of kit just out and about… and power to them if so.
'Dress Up Boxes' are not gender specific. Boys wear mums dresses and the brave ones have a crack at heels – usually these boys grow into men who rightfully acknowledge the staying power of a stiletto-wearing woman at 2am.
Girls dress in blazers and completely bugger up black eyeliners whilst painting on a 'stash.
Kids will be kids, the more ridiculous they look, the happier they are.
The second, more serious point, pertains to our moral obligation. And boy we have a few being an online Childcare agency (you should see our Christmas present from our Lawyers each year).
And that is; looking at the image for what it is not.
How have some people looked at this image and scanned it over from a political correction point of view for 'sexual appropriateness'?
Automatically viewing through the lens of a 'sexualisation glass' is quite possibly a very, dangerous habit. And if one falls into this habit; how did one do so is the next question.
Scanning images, quotes, texts, actions for what could be 'inappropriate' or 'sexualised' leaves us in a very precarious world of consumerism where everything is a threat. Everyone is dodgy. Every choice should be second-guessed.
How bloody tedious.
Now don't get us wrong. There are a multitude of instances where this critical lens needs to be applied and rightfully so – discerning these instances is important and further more, the need to do so has risen out of some fairly irky and unfortunate circumstances.
Exercising common sense principles in scrutinizing situations works well. Failing to do so, leads us to the case at hand.
Ie; sexualising an image that really, is not sexual at all. And now it is, because it is now a discussion.
We are an online Childcare agency that likes to view life realistically. Life with kids is chaotically beautiful, almost always imperfect and rarely going to plan (yet oh so lovable).
So our images on our website portray exactly that; a realistic depiction of kids. Sure, similar businesses may show mum waltzing through a field of flowers with a jolly kid in tow. Lovely.
They just forgot to explain that she had to bribe her kid into smiling gleefully and two seconds later she rolled her ankle, fell, sneezed from the pollen and forgot her pelvic floors. Then her kid has the audacity to ask what was for dinner. *insert eye roll.
It seems that interpretation radars are going a little off course perhaps?
But hey, we're open to all opinions – what do you think?
Well hello, we're My Super Nanny and we're kind of like 'Uber' for Nannies. How so? We have a fab feature that tells you which Nannies are 'active' and/or 'LIVE'. Meaning if you message a Nanny then and there, they will respond. Handy right?
Browse our Nannies Australia wide, or post a job and let them come to you.
If you join as a parent in the next week, we will send you a free box of Energy Tea by Your Tea. 
Yours in getting life sorted, My Super Nanny.
Visit www.mysupernanny.com.au