One Pan Creamy Garlic Chicken and Potatoes Recipe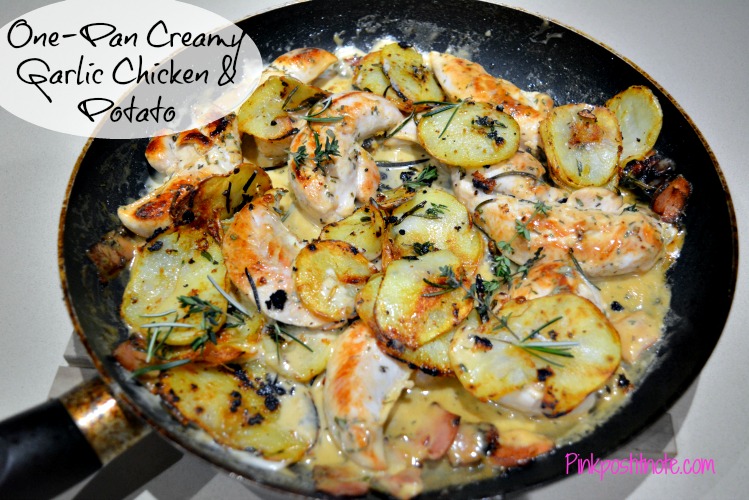 One Pan Creamy Garlic Chicken and Potatoes Recipe
So hands-up who wants a dead-easy, one-pan, delicious, creamy, garlicky chicken and potato dish that is ready in 15 minutes?? Yes please!
Ooh and there's bacon in there too. And some fresh herbs. So. Much. Flavour! I made and published this innocent, little recipe last week on my blog and the interest was massive. So it was only fair to share it here on Mum's Lounge too. And it's not even that naughty. Maybe a tiny bit with the bacon and the cream but I did use 60% reduced fat cooking cream and if you want to be super good, you can substitute that with evaporated milk. Which I totally could have done but frankly I wasn't even thinking about it. You start the potatoes off in the microwave for a few minutes to get the cooking underway, fry them until crisp with the garlic and herbs which takes just minutes, set them aside, then toss in the rest for another 5 minutes, add the potatoes back at the last minute and serve.
We absolutely devoured this dish. It's been over a week and I'm still thinking about it and my husband is still talking about it. You have to make this!
One Pan Creamy Garlic Chicken and Potatoes Recipe
Ingredients
1 large floury potato
2 tbsp. olive oil
500g chicken tenderloins
4 strips of streaky bacon, roughly chopped
3/4 cup thickened cream
1 tbsp. minced garlic
5 sprigs fresh thyme leaves
1 sprig fresh rosemary leaves
1 tsp dried tarragon
sea salt & cracked black pepper
Instructions
Pierce the potato (skin-on) several times with a sharp knife. Microwave on high for 3-4 minutes - you don't want it soft, you just want to start off the cooking process.
Slice the potato into super thin slices.
Heat the olive oil in a large fry pan over medium heat. Lay the potato slices in the pan and cook for around 3 minutes per side - toss in the garlic, thyme and rosemary halfway through the cooking process. If you cook it the entire time, it may burn a bit.
Remove the potatoes and set aside on a plate.
Toss in the diced bacon and chicken and cook for 3-4 minutes or until the bacon is crispy and the chicken is cooked through.
Add the cream and season with salt and pepper. Stir through until bubbling and then add the potatoes and toss.
Serve immediately.
https://mumslounge.com.au/lifestyle/food/one-pan-creamy-garlic-chicken-potatoes/