One Pan Pumpkin, Broccoli & Bacon Pasta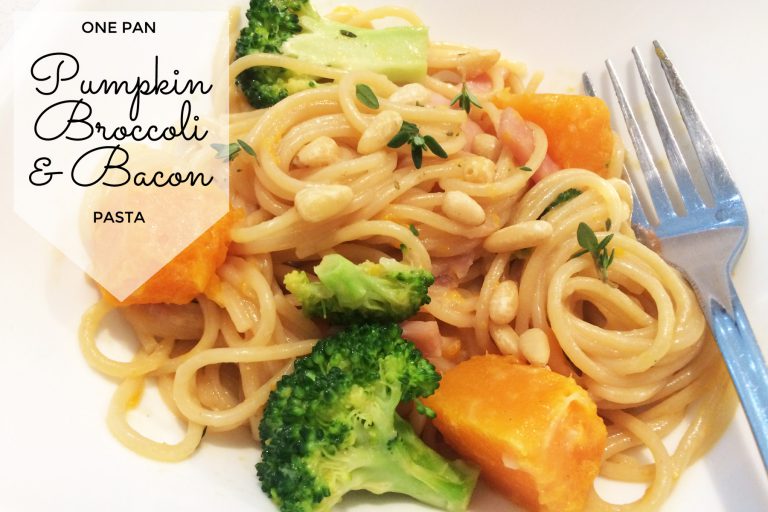 One Pan Pumpkin, Broccoli & Bacon Pasta
Alright, hands up who might love a one-pan pasta dish that's packed full of flavour and veggies and ready in about half an hour? Everybody!
Actually, that's not too far off the mark — everyone in my family loved this pasta recipe. Even those that don't really like pumpkin ate it happily!
It's super easy to make, and for most of the 30 minute cooking time, it is simmering away on the stove.
Here's what you'll need to make this delicious pasta dish.
One head of broccoli, half a butternut pumpkin, a red onion, some bacon rashers, fresh thyme, chicken stock, cream, bacon, garlic, olive oil and dried pasta. Spaghetti works great but you could use whatever pasta you prefer. It would be awesome with penne or rigatoni, too. I sprinkled some pine nuts on top and you can also serve the pasta with basil leaves and parmesan shavings if you like too.
Cut everything up and have it ready to go — this is what the French call mise en place, and it makes cooking super easy and stress-free.
Pop the pumpkin, bacon and onion into a big deep frying pan and allow to cook for five minutes before adding the garlic and thyme. Pour in the chicken stock and water and bring to the boil, then add the uncooked dried pasta – that's right, no dirtying a second pan! Everything is cooked in the one big pot. Yay for less washing up!
After ten minutes, add the broccoli and cook for another 5 minutes. Then it's just a matter of stirring through the cream and serving!
I know it doesn't look that pretty. But it tastes amazing — all those delicious creamy pumpkiny chicken flavours are mixed through the pasta as it cooked so it's just bursting with loads of colour and flavour. Soo so yummy, and just as good reheated for lunch the next day! (Ask me how I know!)
I hope you enjoy it as much as we did!
One Pan Pumpkin, Broccoli & Bacon Pasta
Ingredients
1 tbsp olive oil
1 red onion, halved, thinly sliced
6 bacon rashers, chopped
500g butternut pumpkin, peeled, cut into 2cm cubes
2 garlic cloves, crushed
4 sprigs fresh thyme
1 cup chicken stock
250g dried spaghetti
1 head broccoli, cut into small florets
1/4 cup thickened cream
Toasted pine nuts, fresh basil leaves and finely grated parmesan, to serve (optional)
Instructions
Heat oil in a large heavy-based saucepan or flameproof casserole dish over medium-high heat. Add onion, bacon and pumpkin. Cook, stirring occasionally, for 5 minutes or until onion is softened. Add garlic and thyme. Stir to combine.
Add chicken stock and 2 cups cold water. Cover. Bring to the boil. Add spaghetti. Reduce heat to medium. Simmer, uncovered, for 10 minutes, stirring occasionally. Add broccoli. Simmer for 5 minutes, stirring occasionally, or until pasta and broccoli are tender and the sauce has thickened.
Remove from heat. Remove and discard the thyme sprigs. Stir in cream. Season with salt and pepper. Serve pasta sprinkled with pine nuts, basil leaves and parmesan.
https://mumslounge.com.au/lifestyle/food/one-pan-pumpkin-broccoli-bacon-pasta/