One Pan Savoury Mince with Pasta Recipe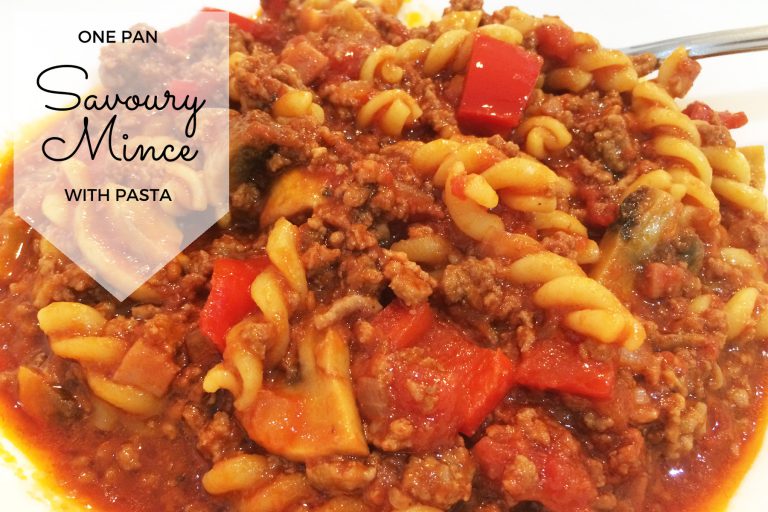 One Pan Savoury Mince with Pasta Recipe
This fabulous savoury mince with pasta recipe is made in one pan in just over half an hour. It can be packed full of vegetables and easily doubled to feed a bigger family. My mob just love it, and I'll be making it again and again in the future.
I found this recipe years ago after my husband and I were first married and totally forgot about it in the years since. But I made it again the other night and it was a big hit with everyone.
The flavours are just slightly different to our usual spaghetti bolognaise and it couldn't be easier to make. Did I mention that it's all in the one pan? Yay for one pan wonders!!
Here's what you'll need to get it on your table within 40 minutes.
Mince, mushrooms, capsicum, onion, garlic, beef stock cubes, bacon (yes!), tin of tomatoes, tomato paste, brown sugar, worcestershire sauce, salt and pepper and just half a cup of small pasta — a great way to use up those piddly little leftover bits in the back of your pantry!
Now, we have a big family so I actually doubled this recipe which is why 1kg of mince is pictured. It worked out beautifully. The recipe below would serve four, but if you doubled the mince, tomato paste, worcestershire sauce, tin of tomatoes, beef stock, sugar and pasta, it will serve 6 with leftovers. You can add extra veggies too, if you like. Or just chuck in some sliced zucchini as well. There were plenty of veggies in our meals without doubling them.
All you need to do is saute the onion, garlic and bacon, then add the mince and cook until browned through. Then add the rest of the ingredients, pop the lid on and walk away for twenty minutes! Serve with crusty bread!
One Pan Savoury Mince with Pasta
Ingredients
1 tablespoon olive oil
1 rasher rindless bacon
1 onion, finely chopped
1 clove garlic
500g beef mince
6 mushrooms, chopped
1 red capsicum, seeded & chopped
2 tablespoons tomato paste
425g can diced tomatoes
1 cup beef stock
1 tablespoon Worcestershire sauce
1 teaspoon brown sugar
1/2 cup small pasta
Salt and pepper, to taste
Instructions
Heat oil in a large frying pan, sauté bacon, onion and garlic until tender.
Add mince. Brown well, breaking up with a spoon as it cooks. Stir in mushrooms, capsicum and tomato paste.
Blend in all remaining ingredients. Bring to the boil, reduce heat and simmer for 15 to 20 minutes until pasta is cooked.
Serve with crusty bread.
https://mumslounge.com.au/lifestyle/food/one-pan-savoury-mince-pasta-recipe/