One-Pot Cheesy Mince & Tomato Pasta Curls Recipe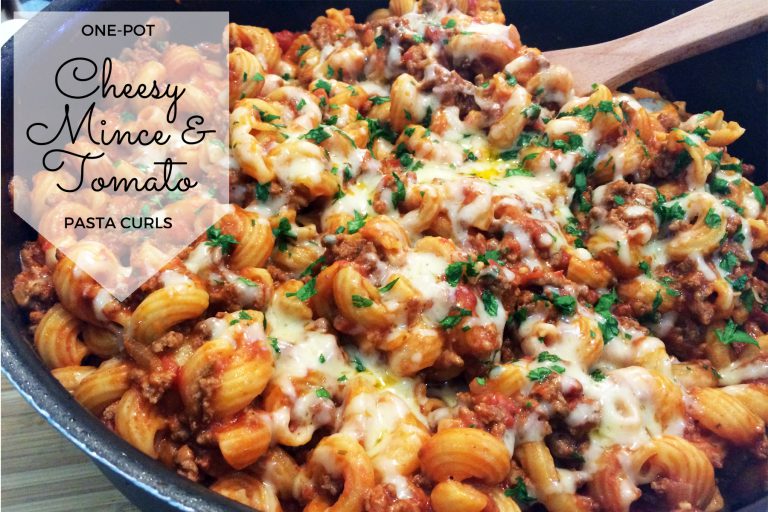 One-Pot Cheesy Mince & Tomato Pasta Curls Recipe
So  I asked my nine year old what we should call this recipe and she immediately responded with "awesome cheesy mince pasta". I refined it a little, but the girl is right. This is indeed awesome cheesy mince pasta.
There are loads of similar recipes out there – basically bolognaise sauce with pasta and cheese – but this one is somewhat easier to make because – hurrah! – it is made in one pot. No oven baking, no timing pasta, no dirtying a heap of pots and pans. One pot wonders are the best for weeknight meals.
What will you need to get started? Take a squiz at this lot…
One big jar of passata sauce, two tins of tomatoes, 1kg beef mince, an onion, some garlic, soy sauce, salt, tuscan seasoning, bay leaves and grated tasty cheese. Also, not pictured – a beef oxo for a little flavour boost. You'll find that in the recipe as one cup of beef stock. Next time I make it, I'll add some finely diced zucchini and mushrooms, and maybe some chilli flakes too!
It's really quite easy to throw together – brown the mince, onion and garlic, then add the sauces and herbs and spices with some water and allow it to simmer gently for 20 minutes or so.
Then add your pasta curls, give it all a good mix through and allow to simmer for another 30 minutes.
When it's finished, stir through some grated tasty cheese then sprinkle more on top to melt and go all gooey and delicious. Top with some freshly chopped herbs and serve immediately with some crusty bread. I used parsley but basil, oregano or thyme would be amazing too
My nine year old was right. Seriously, how good does that look? Pretty easy to make too. It will quickly become a family favourite.
One-Pot Cheesy Mince & Tomato Pasta Curls Recipe
Ingredients
1kg beef mince
3 garlic cloves, minced
2 cups water
1 cup beef stock
690gms passata
2 cans diced tomatoes
1 tbsp Tuscan seasoning
3 bay leaves
3 tbsp soy sauce
1 tsp salt (or to taste)
500gms pasta curls, uncooked
1 cup grated tasty cheese
OPTIONAL:
finely diced vegetables like zucchini, capsicum, mushrooms etc
add a little extra heat with some chilli flakes or tabasco sauce
Instructions
Heat a frypan to medium high heat and brown the mince, breaking up with a spoon as it cooks. Remove from the pan to a fine metal strainer to drain the fat.
Sauté the diced onion and garlic until soft, then return the mince to the pan. Add the water, beef stock, passata, diced tomatoes, Tuscan seasoning, bay leaves, soy sauce, and salt. Stir well. Cover and allow to cook for 15-20 minutes.
Add the uncooked pasta curls to pan, stir well, return the lid and simmer for about 30 minutes. Turn off heat, remove the bay leaves, and stir through grated cheese. Add some chopped fresh parsley and extra grated cheese to serve.
https://mumslounge.com.au/lifestyle/food/one-pot-cheesy-mince-tomato-pasta-curls-recipe/