Oven Baked Sausage and Cherry Tomato Risotto Recipe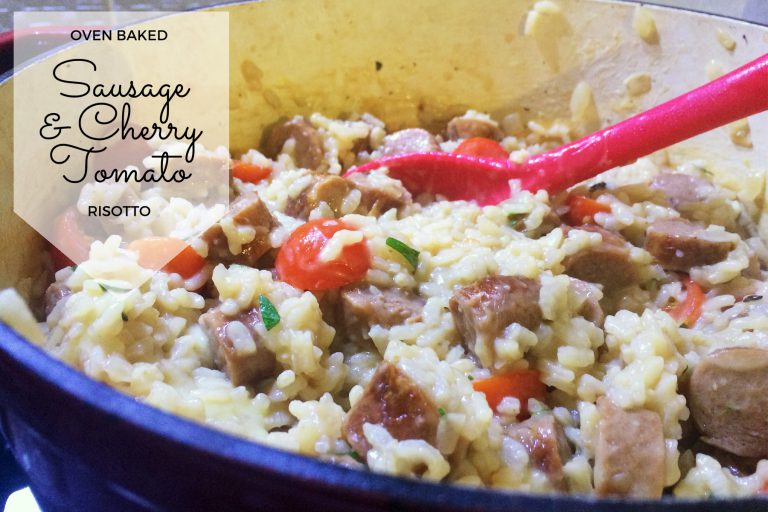 Oven Baked Sausage and Cherry Tomato Risotto Recipe
Now this is a recipe to keep stashed away in your bag of tricks. Oven baked sausage and cherry tomato risotto can be switched up to include anything you have in your pantry and fridge. No sausages? Use bacon or a couple of chicken breast fillets instead. Don't like tomatoes? Add any of your favourite stand by vegetables like capsicum or zucchini.
And the VERY BEST PART of this fabulously versatile meal is that you don't have to stand there adding ladles of hot stock to the pan every 5 minutes while stirring madly. Just bung it all in the oven at once and stir a couple of times. Risottos have never been this easy.
Oven Baked Sausage and Cherry Tomato Risotto Recipe
Ingredients
2 tablespoons olive oil
1 brown onion, finely chopped
2 garlic cloves, crushed
2 cups arborio rice
5 cups chicken stock
¼ cup white wine
6 – 8 beef sausages
250g punnet cherry tomatoes, halved
1 cup grated tasty cheese
¼ cup flat-leaf parsley, chopped
Instructions
1. Preheat oven to 170°C and place a 5-litre ovenproof dish in oven to heat.
2. Place a large frying pan over medium heat, add the olive oil and sausages and cook for 5-8 minutes until they are browned, then remove them from the pan and place on chopping board. Cut them into bite-sized pieces and reserve.
3. Add onion and garlic to the pan and cook for 2-3 minutes until soft. Return the sausages to the pan and add the rice and cook, stirring for 1 minute. Add wine and stock and bring to the boil, then pour everything into the preheated dish. (Careful, it's very hot) Cover tightly with a lid or foil and place in the oven for 15 minutes.
4. Remove and give everything a good stir, then cover again and return to the oven for a further 15 minutes. By this time all liquid should have been absorbed. If not, return to the oven uncovered for a further 5 minutes.
5. Remove and add the cheese, cherry tomatoes and parsley, and season with salt and pepper. Stir well to combine and serve with crusty bread.
https://mumslounge.com.au/lifestyle/food/oven-baked-sausage-cherry-tomato-risotto/