Pink Princess Strawberry Marshmallow Cake Recipe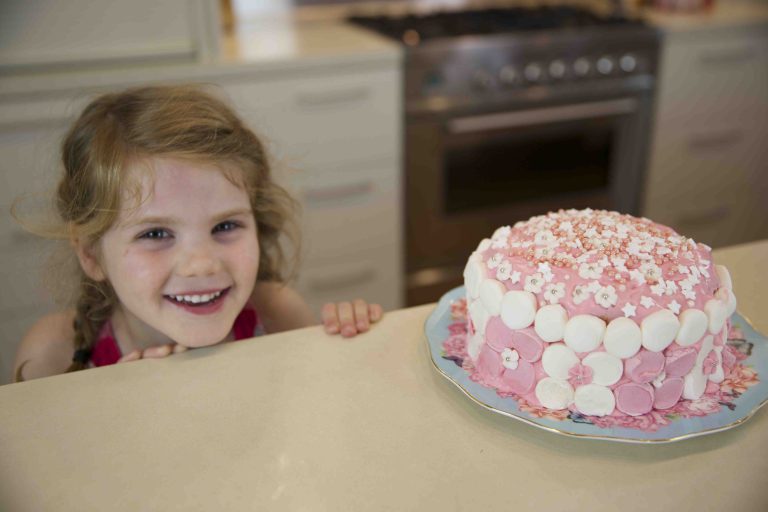 Sponsored post
At Mum's Lounge we love anything that makes parents' lives easier and this Aeroplane Strawberry Marshmallow cake recipe fits the bill perfectly. Never be caught short for a birthday cake idea again.  This incredibly quick and easy cake will take you only 20 minutes to put together, and it looks so fabulous no one will ever guess that you haven't spent hours in the kitchen.
In fact, why wait for someone's birthday? Why not get the kids busy in the kitchen, and whip one up these school holidays.  It's perfect as an after dinner dessert (if they eat all their veggies) or share with friends at your next afternoon playdate!
Pink Princess Strawberry Marshmallow Cake
Number of Serves: 8-10
Preparation Time: 20 minutes
Setting Time: 1 hour
Ingredients:
2 baked sponge cakes
1 x 200g packet Aeroplane Strawberry Marshmallow Mousse made to pack instructions and refrigerated for 1 hour
10 pink and white marshmallows cut in half
Assortment of pink cake decorations

Method:
Place a thick layer of Strawberry Marshmallow Mousse onto the top of one sponge cake and top with the other cake.
Use a knife or spatula to spread the outside and top of cake with the layer of mousse then place the remaining mousse into a piping bag and decorate to your liking.
Place the marshmallows around the bottom of the cake and sprinkle with the pink cake decorations and candles.
If you liked this recipe you'll LOVE the FREE Aeroplane Jelly Dessert Recipes ebook, perfect for enjoying with your family this Summer.
Download your FREE Aeroplane Jelly Dessert Recipes Ebook here.
Win an Aeroplane Summer Fun Pack
Keep the kids entertained these summer holidays with this amazing summer fun pack from Hot Wheels and Aeroplane. The prize includes the Hot Wheel Ultimate Garage – the biggest Hot Wheels garage EVER! With 36 spots to park, kids can store all of their favourite cars and take them on a variety of wild adventures. This garage serves up a world of Hot Wheels excitement and hours of fun all in one epic play set. Includes five Hot Wheels vehicles plus a helicopter to get the action started right away. Also included in the prize is the NEW Split Speeders Blade Raid trackset and assortment of Split Speeder vehicles, Hot Wheels Trackbuilder Spiral Stack Up Trackset, Hot Wheels Monster Jam Dragon Blast Playset, Hot Wheels Colour Shifters Splash Lab Playset.
And once the kids have worked up an appetite from playing for hours on end, they can help you in the kitchen and whip up a favourite Aeroplane dessert. The prize also includes Aeroplane Jelly's favourite jelly crystals, mousses, toppings and ready to eat jelly tubs – great for snacks on the go and lunch boxes.
Prize includes:
Hot Wheels Ultimate Garage RRP $200
Hot Wheels Trackbuilder Spiral Stack Up trackset RRP $40
Hot Wheels Monster Jam Dragon Blast Playset RRP $40
Hot Wheels Colour Shifters Splash Lab Playset RRP $40
Hot Wheels Blade Raid Track Set RRP $40
Assortment (10) of Hot Wheels Split Speeder Vehicles RRP $100
Range of Aeroplane Deserts including Aeroplane Jelly Original Crystals, Aeroplane Ready To Eat Jelly, Aeroplane toppings and Aeroplane Mousse. (value $50)
Total value: $510.
To enter, coplete the entry form below. Good luck!
a Rafflecopter giveaway