The Best Pasta Salad Recipe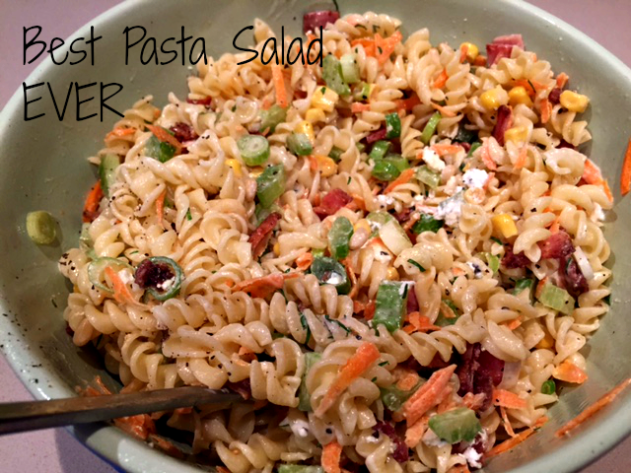 Best Pasta Salad
Many years ago I was in a Charcoal Chicken shop and I had the best pasta salad of my life. It had exactly the right moisture content, the right mix of ingredients and a fantastic dressing. I would have offered big money to the owner for the recipe but I decided with enough experimenting I would be able to figure it out myself.
I got onto Google and typed Best Pasta Salad recipes and came up with a lot of really horrible looking pasta salads. They were drowning in mayonnaise or they were really over the top with really strong ingredients. I didn't get too far. Then I thought about textures and colours and flavours and knew that there should be some key ingredients. Some corn and carrot for colour. Some spring onion (because every pasta salad should have some onion), some bacon and fetta cheese for the salt, some poppy seeds and pine nuts for some crunch but what about the dressing? Paul Newman came to the rescue AGAIN with his Ranch Dressing. I use his Caesar Salad dressing for (of course, Caesar Salad) and this Ranch dressing is perfect; not too strong, not too sweet, not too thick and gives a great balance to all the other ingredients. Everyone who has tried this salad loves it and asks for the recipe.
The Best Pasta Salad Recipe
Ingredients
1 small packet (500g) small spiral pasta
1 small can of sweet corn, drained and rinsed
100 – 150g fetta cheese, crumbled
4 slices of cooked bacon, crumbled
3 green onions, sliced
2-3 stalks of celery, diced
1 grated carrot
1/2 packet (roughly 3 tbsp) of toasted pine nuts or slivered almonds
3 tbsp chopped fresh parsley
1/2 tsp dried dill or 1 tbsp fresh dill
Approx 1 bottle of Paul Newmans Ranch Dressing
Freshly cracked black pepper
Instructions
Cook pasta in salted, boiling water. Drain and rinse with cold water, drain thoroughly.
Cool.
Add all ingredients and enough dressing to taste.
https://mumslounge.com.au/lifestyle/food/the-best-pasta-salad-recipe/
Carolyn started her blog
Pinkpostitnote.com
just over a year ago as a way to deal with her obsession of trying new recipes from the copious collection of cookbooks that she owns (and continues to buy). She is particularly fond of "man" food, both cooking it and eating it. She will happily elbow people out of the road at the sight, sound and smell of a pulled pork burger. When she's not lying awake at 5am wondering if she should buy chooks and a cow to deal with the constant need for eggs and butter, she's dealing with all the paperwork associated with owning a bunch of tip trucks and her favorite time of the day is
wine
five o-clock.