Smashed Potato Salad Recipe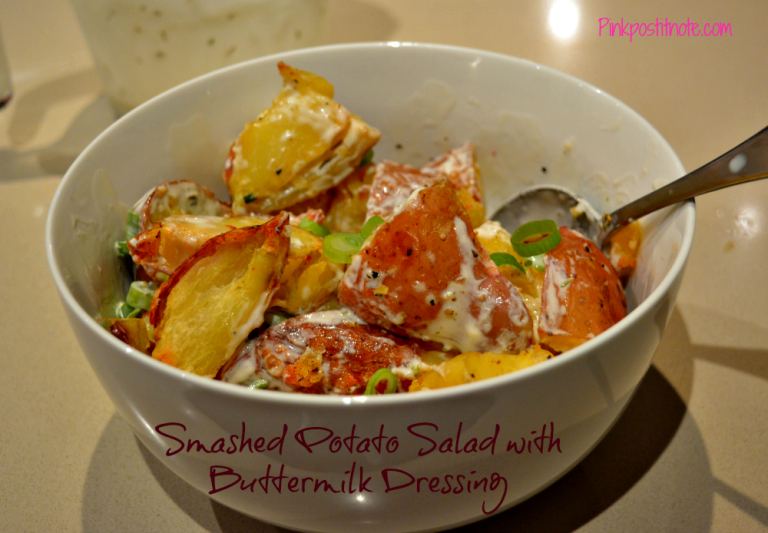 Smashed Potato Salad
Can there be a BBQ without a potato salad to go with it? I say not. Are you tired of the stock-standard potato salad with mayonnaise, bacon and spring onion? Probably not because that's really good. But I have made that kind of potato salad about a billion times and while it's delicious I am just kinda bored with it so when I see something a little bit outside of the box, I am going to try it. Try it I did and everyone loved this. A super easy recipe you can prepare ahead of time and serve hot or cold. The potatoes are boiled whole in their skins, then roasted until crispy and squashed before an easy dressing is drizzled over the top.
If you're going to serve this salad cold, I would maybe leave the potatoes out on some paper towel at room temperature so they stay crispy and drizzle over the dressing at the last minute. If you wanted to, you could even quickly pop them back in the oven to warm them/crisp them back up again.
Adapted from Bon Appetit
Smashed Potato Salad Recipe
Ingredients
1 1/2 kilos baby red potatoes (or whole ones cut into quarters)
sea salt, cracked pepper
2 tbsp olive oil
1/3 cup buttermilk
1/4 cup mayonnaise
1 1/2 tsp brown sugar
2 tsp fresh thyme (1 tsp dry)
2 tsp fresh oregano (1 tsp dry)
3 spring onions, thinly sliced
Instructions
Pre-heat oven to 200C/450F. Place potatoes in a large pot and cover with cold water. Season with salt and bring to a boil. Simmer until tender, 15-18 minutes. Drain and return to pot to dry.
Working with one potato at a time, place each on a chopping board and using a flat-bottom heavy glass, squash gently then transfer to baking sheets lined with baking paper. Drizzle with oil, season with salt and pepper and roast until golden – approx 20-30 minutes, flipping once.
Meanwhile, whisk together buttermilk, mayonnaise, brown sugar, thyme and oregano. Season with salt and pepper. Fold warm potatoes into dressing along with the spring onions. Season to taste.
https://mumslounge.com.au/lifestyle/food/smashed-potato-salad/
Carolyn started her blog Pinkpostitnote.com just over a year ago as a way to deal with her obsession of trying new recipes from the copious collection of cookbooks that she owns (and continues to buy). She is particularly fond of "man" food, both cooking it and eating it. She will happily elbow people out of the road at the sight, sound and smell of a pulled pork burger. When she's not lying awake at 5am wondering if she should buy chooks and a cow to deal with the constant need for eggs and butter, she's dealing with all the paperwork associated with owning a bunch of tip trucks and her favorite time of the day is wine five o-clock.