Rainbow Cupcakes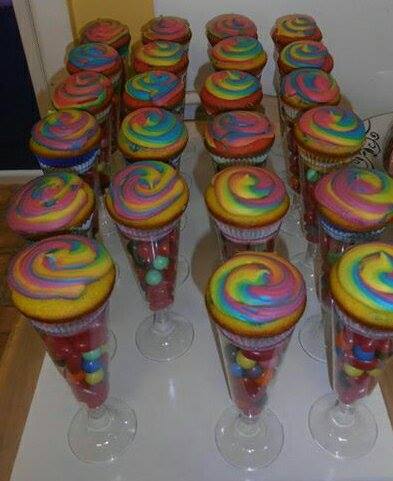 Rainbow Cupcakes
This simple recipe to make Rainbow Cupcakes might look complicated but it's not and best part is you can make it in no time at all!
Cupcakes:
Mix together, 125g melted butter, 1/2 Cup caster sugar and 1 tsp vanilla essence. Then add 2 eggs and beat well. Add 1 Cup plain four, 2 tsp baking powder and mix until combined, finally add 1/4 milk and stir through. Spoon mixture into cupcake cases and bake at 190ºC for 15 minutes. Cool.
Icing:
Make 3 batches, 1 yellow, 1 blue and 1 pink.To make the icing mix 1.5 Cup icing sugar, 1Tbs marge and 1-2tsp milk add .5 tsp if colouring.
Put all three colors into piping bag (next to each other – triangle formation) and pipe onto cupcakes.
Too easy!
In this party presentation our mum used jelly beans and chocolate balls in the plastic glass and then placed the cupcake on top!