Nutella Self-Saucing Pudding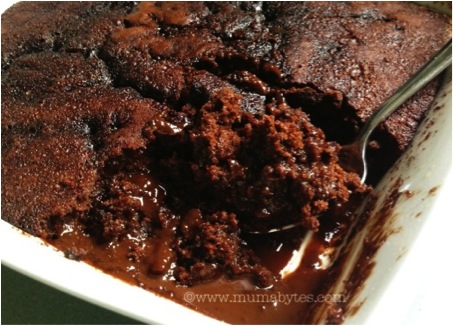 Nutella Self-Saucing Pudding
For the Nutella lovers (and I know there are a lot of you!) this won't disappoint! Especially as the cooler months head our way, there is something so perfect about curling up with a bowl (or the whole dish) of pudding on a cold night. Make that a Nutella self-saucing pudding and, in my opinion, it's pure bliss.
This Nutella self-saucing pudding is super-simple to make. It will only take you five to ten minutes to prepare, with half-an-hour cooking time. This recipe is egg-free, not for any particular reason, but I tried it without and it worked fine. If you want to include an egg, by all means, do.
You might notice that the sugar content is quite low in the cake portion of the dish. This is because there is no much sweetness in the Nutella sauce. If you have a real sweet tooth, though, you may like to add a little more sugar, perhaps 1/3 of a cup.
Nutella Self-Saucing Pudding
Ingredients
1 cup self raising flour
3 tbsp cocoa powder
1/4 cup sugar (white or brown)
50g butter, melted
1 cup milk
1 cup boiling water
4 heaped tbsp Nutella
Instructions
1. Preheat oven to 180C and grease a pudding dish. (I used a square dish, approx 25cm x 25cm)
2. Combine flour, cocoa and sugar in a mixing bowl - set aside.
3. In a saucepan, combine the cup of boiling water with the Nutella and whisk until the Nutella has melted and it is all combined. Set aside.
4. Add the melted butter to the flour mixture, followed by the milk (gradually). Ensure it is combined well.
5. Pour the cake batter into the prepared dish and then pour the Nutella mixture over the top of the cake, using the back of a tablespoon to do so; this will avoid making dents in the cake batter. Place in teh oven and bake for 30 mins or until the cake bounces back when touched.
6. Let the pudding sit for at least 30 minutes upon removal from oven. This will give the sauce a little more time to thicken, and the pudding is nicer warm rather than boiling hot.
https://mumslounge.com.au/lifestyle/food/nutella-self-saucing-pudding/
Prep time: 5-10 mins
Total Time: 35 mins
Difficulty: easy
Author: Katie from Mumabytes
Katie is a full-time mum and blogger at Mumabytes. A Melbourne girl, she never says no to chocolate, and loves to share her ramblings about all things motherhood.