Roast Chicken with Thyme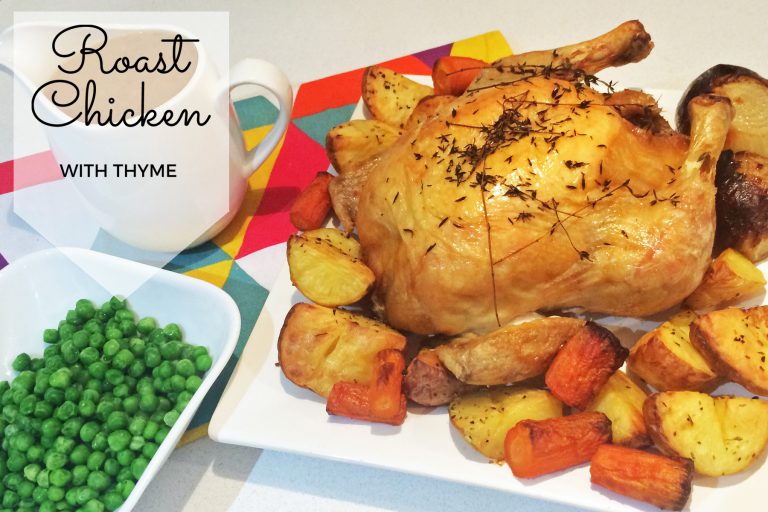 Roast Chicken with Thyme
Roast chicken and thyme are a match made in heaven. And when you combine them with crispy roasted potatoes, tender roasted carrots and sticky sweet roasted onion with delicious home made roast chicken gravy poured all over the top, you have a family meal that can't be beaten. They'll all want to know when dinner will be ready as the amazing aromas of chicken and thyme fill your home.
Ingredients
1 large family sized roast chicken
Olive oil spray
Fresh thyme
1kg potatoes, peeled and chopped into large chunks
4 carrots, peeled and chopped into large chunks
4-6 whole onions, peeled and trimmed
2 cups of frozen peas
2 chicken Oxos
1 tablespoon of plain flour
Salt and pepper
Instructions
1. Preheat oven to 180 degrees Celsius. Place chicken on a metal cooking rack or trivet on a deep baking tray and sprinkle with fresh thyme. Spray thyme with oil so it doesn't burn while cooking.
2. Cook chicken for recommended time on packaging
3. With approximately 1½ hours until the chicken is ready, place potatoes, carrots and onions on another baking tray and place in the oven, turning once after 45 minutes.
4. When the chicken is ready, take it out of the oven and place on a plate under foil to rest. Put the oven tray with ½ cup of baking juices onto a hotplate on medium high. Dissolve chicken Oxos in 500mls of hot water. Place 1 heaped tablespoon of flour into the baking dish and stir to cook the flour and scrape up some of the sticky juices. Slowly add the chicken stock a little at a time, all the while deglazing the pan and constantly stirring. Season with salt and pepper and allow to simmer gently.
5. Steam or boil the peas and place on the plates with divided chicken, roasted potatoes, sticky roasted carrots and sweet roasted onion. Pour gravy into a jug and serve.
https://mumslounge.com.au/lifestyle/food/roast-chicken-thyme/