Salmon and Broccoli Linguine Recipe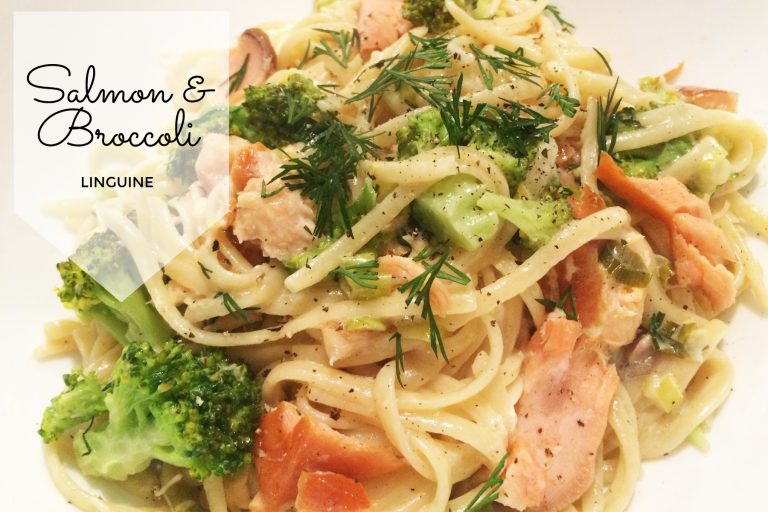 Salmon and Broccoli Linguine Recipe
This salmon and broccoli linguine dish can be on your table within just twenty minutes, full of the fresh flavours of salmon, lemon, broccoli and dill. This recipe is the perfect mid-week meal, filling hungry tummies fast!
Here is what you will need to make this quick and easy pasta dish.
Linguine pasta, shallots, lemon, dill, garlic, cream, olive oil, broccoli and salmon.
I just love cooking with hot smoked salmon – it is absolutely delicious. You can buy it for about $8 or so in the cold food section where you would buy the thinly sliced smoked salmon. It is dearer than tinned salmon, but still fairly inexpensive when you consider the cost of meat for a family meal.
You can also substitute a 415g tin of red salmon or even tuna for the hot smoked salmon if you prefer.
Cook the linguine in a big pot of salted boiling water as per packet directions. Add the broccoli florets to the pasta for the last three minutes of cooking time, then drain and reserve 1/3 cup of the cooking liquid.
Meanwhile, in a big frying pan add the shallots, lemon rind and garlic and fry until fragrant. Add the cream and some lemon juice and bring to a simmer. Then add the salmon, dill, reserved cooking liquid and pasta mixture and toss to combine.
Season with salt and pepper and serve immediately with extra chopped fresh dill.
My kids loved this meal, which wasn't surprising because they love most pasta dishes. We'll definitely be making it again soon, it was just so easy!
Salmon and Broccoli Linguine
Ingredients
375g dried linguine
350g broccoli, cut into small florets
1 tbsp olive oil
6 green onions, thinly sliced
2 garlic cloves, crushed
2 tsp finely grated lemon rind
300ml cream
2 tbsp lemon juice
2 hot smoked salmon fillets
2 tbsp chopped fresh dill
Instructions
Cook pasta, following packet directions, adding broccoli for the last 3 minutes of cooking time. Drain, reserving 1/3 of a cup of cooking liquid.
Meanwhile, heat oil in a large, deep frying pan over medium heat. Add onion, garlic and lemon rind. Cook for 2 minutes or until fragrant. Add cream and lemon juice. Stir to combine and bring to a simmer.
Add salmon, dill, reserved cooking liquid and pasta mixture. Cook, tossing, over low heat for 2 minutes or until heated through and thickened slightly. Season with salt and pepper and serve topped with extra dill.
https://mumslounge.com.au/lifestyle/food/salmon-broccoli-linguine-recipe/